A lot of people have a hard time transitioning from white rice to brown rice. Perhaps today's TTR will help! Brown rice is milled once to remove the hard outer husk, packaged, and sold—rich in B vitamins, fiber, manganese, and iron. White rice continues that milling and polishing process until nothing is left but the starch. 67% of vitamin B3, 90% of vitamin B6, 80% of B1, 50% of phosphorus and manganese, 60% iron, and all the fiber and essential fatty acids are destroyed to turn brown rice into white rice.
And THEN, once the rice is completely ruined and not good for anything, it needs "enriching". Our friends at the FDA require food manufacturers to "enrich" white rice with some of the B vitamins and iron that are removed from being overprocessed. Interesting huh? Does that mean because it's enriched with synthetic vitamins that now it's okay to eat? You already know the answer to that—you really don't want me on my produce box ranting about "enriching"! LOL
Here's today's TRICK:
Remember, rice (and when I say rice, I'm only referring to brown rice) is raw food that requires washing before use. Rinse in a mesh colander under cool water several times to get it clean.
Here's a TIP:
Cooking rice is easy. Just remember, in a pot add 1 part rice to 2 parts water, broth, or a combination of the two. Let your pot come to a boil, turn it down to low a simmer, cover, and let it cook for 45 minutes or until the liquid is fully absorbed.
And your RECIPE: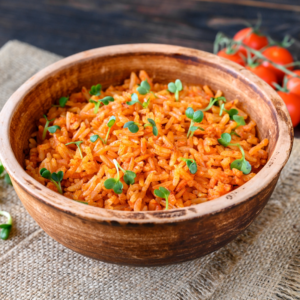 Mexican Skillet Rice
Ingredients
1

pound

extra lean ground beef

1

medium

onion

chopped

1 1/2

tablespoons

chili powder

1

teaspoon

ground cumin

1/2

teaspoon

garlic powder

1/2

teaspoon

salt

3

cups

cooked brown rice

1

16-oz. can

pinto beans

drained

2

4-oz. cans

diced green chilies

1

medium

fresh tomato

seeded and chopped (optional)

Fresh chopped cilantro

for garnish
Instructions
Cook meat in large skillet over medium-high heat until brown, stirring to crumble; drain and blot with paper towels well to absorb grease.

Return meat to skillet. Add onion, chili powder, garlic, cumin and salt; cook until onion is soft but not brown. Stir in rice, beans and chilies; thoroughly heat. Top with tomato; garnish with cilantro. Serve immediately.
Notes
SERVING SUGGESTION: Serve with steamed broccoli and a salad.