This may sound like an unusual subject for an article coming from me because you'll notice that I did, in fact, say calamari in the subject title. Now before your little hearts skip a beat because you think I'm about to encourage deep-fried seafood, you're wrong. Actually "calamari" is essentially just squid – with or without the fried battered crust.

Before your hearts sink too low, let me just say that squid offers a lot of health benefits! Even though it may not be that deep-fried goodness you love to order whenever you venture to the coast, keep an open mind! You may just find that it's just as good without all that greasy crust.
Squid is a good source of iron, vitamins B2, B3, B12, zinc (boosts immune system), potassium, and even helps strengthen your bones and teeth with phosphorus which in turn, helps deliver calcium to your body.
Here's your TIP:
When you buy squid, the tentacles may appear dark – and that is because the skin is still on them. It is extremely difficult to remove the skin and really isn't worth your time. The skin is still edible, so just leave it on when cooking.
Here's your TRICK:
When cooking squid it is common to cook it for a short period. Cooking longer will typically result in a rubbery texture, yuck.
And for your RECIPE: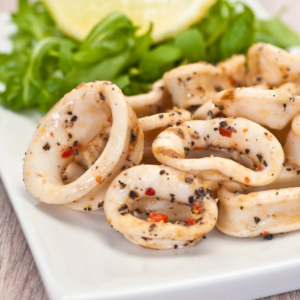 Just a Little Thai in the Squid
Ingredients
1

pound

cleaned squid

1

small

Vidalia or red onion

thinly sliced

1

head

Boston lettuce

or Red Leaf lettuce, cut into quarter-size pieces

2

carrots

peeled and shredded

1/3

cup

fresh mint leaves

2/3

cup

fresh cilantro leaves

1/4

teaspoon

crushed red pepper

4

tablespoons

lime juice

2

tablespoons

Asian fish sauce

in the ethnic section of your grocery store

1

pinch

sugar

Sea salt and pepper

to taste
Instructions
In a large pot, add 3 quarts of water and a couple dashes of salt, set over a high heat and bring to a boil. While waiting for water to boil, combine in a large mixing bowl: fish sauce, lime juice, sugar, crushed red pepper, and a dash of salt. Stir until sugar dissolves. Then add onion and carrots. Rinse the squid under cold water. Slice the bodies horizontally into very thin rings. Add to boiling water and cook until tender and opaque (should only take 30 seconds to a minute). Drain squid and add it to the mixing bowl with the sauce. Then combine the remaining ingredients: lettuce, mint, and cilantro. Ta da!! Now serve!