So you know you should be eating fish often. It's good for you. Yet many people are a bit hesitant to cook fish. It's tricky (or so they think). Well, let me ease your mind. Cooking fish is easier than baking a pie – and much better for you. Fish is the ultimate fast food. It only takes about 10 minutes to cook it to perfection. The moment it's opaque (whitish and not shiny) and flaky it's done! Fast, easy, and good for you. Who could ask for more?
Grilling: Pick sturdy fish for grilling like tuna and salmon. Preheat the grill then use a grilling basket or heavy-duty foil. Place fish on the foil and grill. If you wrap the fish in the foil and seal it then you're steaming and not grilling. Cook the fish for about 4 minutes on each side, depending on thickness.
Steaming: After you bring your liquid to a slow simmer, place your fish over the steaming water in a tray. Cover and steam for about 7 minutes. Continue to steam until opaque and flaky.
Baking: Simply follow your recipe and check to see if it's done after about 8 minutes
Do not microwave fish. It's easy to end up with a rubbery mess.
Here's Today's TRICK:
Thaw frozen fish in milk in a bowl in the fridge overnight for a fresh taste. Toss out the milk when you're done.
Here's a TIP:
Smell your fish before you buy it. If it smells fishy, don't pick it. It should smell good, even sweet!
And your RECIPE: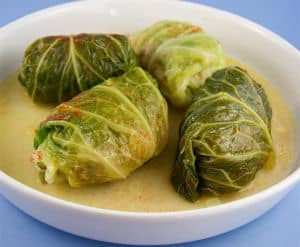 Steamed Salmon & Cabbage
Ingredients
SALMON & CABBAGE:
12

large

cabbage leaves

blanched, drained, set aside

2

pounds

salmon fillets

skinned, cubed

2

tablespoons

olive oil

1

tablespoon

lemon juice

1

teaspoon

minced garlic

1/4

cup

minced shallots

1/4

teaspoon

black pepper

1/2

teaspoon

sea salt

1

teaspoon

fresh thyme

chopped

1

teaspoon

fresh basil

chopped
SAUCE:
1/2

cup

chicken stock

or fish stock

2

red bell peppers

peeled & roasted

1/2

teaspoon

lemon juice

1

teaspoon

anchovy paste

1

pinch

white pepper
Instructions
SALMON & CABBAGE:
In a small skillet sauté shallots and garlic in oil over medium heat stirring frequently for about five minutes. In a large bowl add the cubed fish, shallots and garlic, lemon juice, pepper, salt, thyme and basil. Stack two cabbage leaves, putting fish mixture inside. Wrap and tuck the sides into rolls. Secure with toothpicks.

Place in the top container of a rice cooker steamer basket or a bamboo steamer. Steam for 7 to 10 minutes.

In the meantime puree the following ingredients in food processor:
SAUCE:
Heat in a small sauce pan, bringing to boil over medium heat, cooking until reduced by half stirring frequently.

To serve place some sauce on a plate then put the cabbage roll on top. Serve with rice. Asparagus makes a nice side with this dish.
Notes
Start cooking brown rice in rice cooker or on the stove top according to instructions so that when you are done with wraps you can place them in the steamer basket the last 10 minutes of cooking time.