Shrimp is a good source of omega-3 fatty acids. But that's not all! It also contains folate and B vitamins, vitamins A, D, E, potassium, iron, calcium, and magnesium. Even though shrimp does tend to be high in cholesterol, they are low in calories as well as fat, which means they can be quite the lean addition to one's diet.
Here's Today's TRICK:
Place all of your shrimp in a bowl of ice water to keep them cool when peeling off the shell and deveining them. The colder they are the easier they are to work with. Once you have it peeled and deveined put it back in a bowl of ice water until you're ready to cook it up.
Here's a TIP:
1 pound of raw shrimp in their shells = about 1/2 pound peeled and cooked shrimp If possible, AVOID shrimp that has been peeled and deveined before freezing. It can cause a loss of flavor and texture (shells will help to protect the meat of the shrimp and add more flavor to it). Oh, and did you know you can use those shells to make fish stock for soups and casseroles.
And your RECIPE: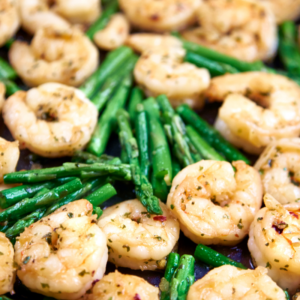 Garlic Lover's Shrimp
Ingredients
1

tablespoon

olive oil

1/4

teaspoon

crushed red pepper

10

cloves

garlic

pressed

1

bay leaf

2 1/4

pounds

large shrimp

peeled and deveined

1/4

teaspoon

salt

3/4

cup

dry white wine

or use white grape juice with a splash of cider vinegar

3

tablespoons

minced fresh parsley

1/3

teaspoon

dried thyme
Instructions
Heat oil in a large skillet over medium-high heat. Add pepper, garlic, and bay leaf; sauté 30 seconds. Add shrimp and salt; sauté 3 minutes. Remove shrimp from skillet. Add wine, parsley, and thyme; bring to a boil, and cook until reduced to 1/4 cup (about 1 minute). Return shrimp to skillet; toss to coat. Discard bay leaf.
Notes
SERVING SUGGESTION: Wild rice pilaf and steamed asparagus.
VEGETARIAN: Use extra-firm tofu cut to the approximate size of shrimp.