Oranges are inexpensive and delicious! Besides enjoying them as a snack, I love to use orange sections in salads or with Asian-inspired dishes. Oranges are bursting at the seams with vitamin C, flavonoids, fiber, potassium, and pectin.
Here's a TIP:
The concentration of vitamin C is in the pulp, people! Make sure you eat the pulp and buy orange juice that has lots of pulp!
Here's a TRICK:
Those little cans of mandarin oranges are great for keeping on your pantry shelf for a quick lift to your salad—try adding it along with slivered almonds, green onions, sesame oil, and rice vinegar for a delicious, off-the-hook salad! YUM!
And your RECIPE: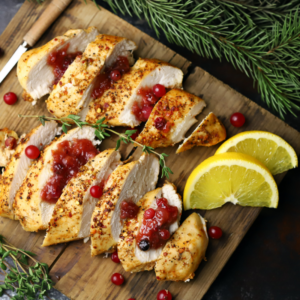 Turkey with Cranberry-Grape Sauce
Ingredients
1

teaspoon

cornstarch

1/2

cup

orange juice

1/4

cup

dried cranberries

1 1/2

tablespoons

honey

1

tablespoon

lemon juice

4

6-oz.

boneless skinless turkey breast pieces*

2

teaspoons

olive oil

1

teaspoon

freshly ground black pepper

1 1/2

cups

green grapes

halved
Instructions
In a saucepan, combine first five ingredients (cornstarch through lemon juice) until smooth. Bring to a boil; cook and stir for 1 to 2 minutes or until thickened. Cool, cover and refrigerate.

Preheat oven broiler.

Flatten turkey to 3/4-inch thickness. Combine oil and pepper; rub over both sides of turkey breasts. Broil 4 to 6 inches from heat for 5 to 7 minutes on each side until turkey is cooked through.

Just before serving, stir grapes into sauce. Serve turkey with cranberry-grape sauce.
Notes
*LEANNE'S HINT: if you don't want to use turkey, use chicken instead!
PS–You can receive delicious menus (complete with shopping lists!) like this delivered right to your email inbox by subscribing to Dinner Answers today!