Summer is coming to an end. Even though I won't mind the heat and humidity being gone, I will miss all the scrumptious summer veggies and fruits. But the king of all summer produce is one that flourishes in this season from beginning to end: the amazing tomato.
These summer rubies are antioxidant gems, especially lycopene. Lycopene has earned its degree of importance because it can ward off a handful of different cancers. When you're choosing which tomatoes to buy, always opt for organic because they possess more lycopene (from a study by Penelope Perkins, " Lycopene Content of Organically Grown Tomatoes").
Additionally, tomatoes are full of vitamin K, a vitamin that is largely responsible for the protein in the bone.
Here's your Tip:
To slice tomatoes evenly, you need to choose the right knife. You can use a smaller, serrated knife, but a freshly sharpened chef's knife will also do the trick.
Here's your Trick:
When you cook with tomatoes you usually have to add sugar or salt to counteract the acidity levels, but you can also use sliced carrots for the same effect and avoid the added sugar and sodium!
And for your Recipe: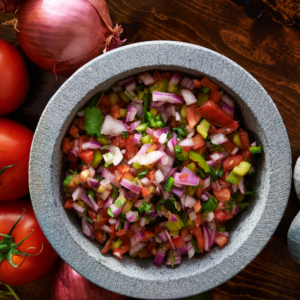 Pico de Gallo
Ingredients
2

medium

tomatoes

diced

1

white onion

finely chopped

2

green onions

finely chopped

handful

fresh cilantro

finely chopped

Sea salt and freshly ground black pepper

to taste
OPTIONAL:
1/2

fresh jalapeno pepper

seeded, deribbed and chopped – adds a kick

Splash of lime juice for a tang
Instructions
Mix thoroughly in a bowl, and let sit for 20 minutes. If you're not going to be using it right away, refrigerate immediately. Let it sit out a few minutes to take the chill off.