One of my favorite things in life is sushi. I love it anyway you give it to me—rolled, not rolled, plenty of wasabi…just load me up!
But sushi means soy sauce and soy is definitely not a health food—especially considering non-organic soy sauce most likely will be GMO soy.
Soy seemingly has a wonderful nutritional profile. But at issue here are the lectins and the fact that every time you eat soy, you're slowing down your metabolism function (thyroid) by 30%! Not to mention that it is a top phytoestrogenic food and endocrine disruptor—who needs THAT?
Anyone suffering from thyroid disease knows that threatening the already weak thyroid is not a wise move. So years ago, when I discovered a tasty substitute called Coconut Aminos, I was beyond excited.
Coconut Aminos are made from two ingredients—aged sap of coconut blossoms and sea salt. That's it. It is low-glycemic, vegan, and gluten-free with 17 amino acids. 
Plus, Coconut Aminos have about 65% less sodium than regular soy sauce.
And just to make it even better—Coconut Aminos have a whole load of health benefits, including weight loss!
Here are 5 to get excited about:
Weight Loss: Adiponectin, a hormone that lives in your fatty tissue, is increased by eating coconut products such as Coconut Aminos. This is a good thing because adiponectin regulates a number of metabolic processes, including fat burning! Coconut Aminos help to increase adiponectin, score!

Immune System Enhancement. Antioxidant-rich, Coconut Aminos naturally support the immune system by providing protection against free radicals, atoms that cause cell damage, and aging, to name just a few of the damaging problems associated with free radicals.

Heart protection. Coconut Aminos and other coconut products, increase HDL (the good cholesterol) and help to regulate blood pressure.

Lowered Risk of Colon Cancer. A University of South Carolina study showed that people who ate coconut products had reduced inflammation and greatly reduced the occurrence of malignant tumors in the colon.

Mental Health Benefits. Coconut is rich in inositol.

According to WebMD, this may help balance certain chemicals in the body to possibly help with conditions such as panic disorder, depression, and obsessive-compulsive disorder.
But, there are downsides to Coconut Aminos and both of them give a lot of folks pause—the price and the scarcity, they can be hard to hunt down.
A small 8-ounce bottle can cost anywhere from $5 to $10 online or at the local health food store; it's not cheap to get your faux soy sauce on!
That is till I found Coconut Aminos and Trader Joe's! For just $2.99 a bottle, these lovelies taste just the same as the aforementioned Coconut Aminos, so you can imagine the happy dance that ensued once I discovered them sitting on my local TJ's shelf.
(Those poor customers in the store that day…they had to see that! :-O)
Anyway, when I find something great, you know I love to share it. And this discovery is way up there in the Land of Great!
Here's a fabulous recipe from Dinner Answers that will introduce you to this wonderful flavor!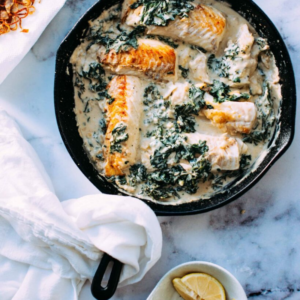 Pan-Seared Salmon with Coconut-Herb Greens
Ingredients
1

cup

canned full fat coconut milk

1

large

lime

juiced

4

teaspoons

freshly grated ginger

3

cloves

garlic

minced and divided

1

teaspoon

coconut aminos

1

teaspoon

minced jalapeno

4

tablespoons

fresh chopped cilantro

divided

4

tablespoons

fresh chopped chives

divided

3

tablespoons

coconut oil

divided

8

4-6 oz.

wild salmon filets

(4 filets will be for another meal)

1

large tub

super greens

sea salt and freshly ground black pepper

to taste
Instructions
In a medium saucepan, stir together the first 3 ingredients along with 2 cloves garlic, coconut aminos, jalapeno, 1/2 the cilantro, and 1/2 the chives, over medium heat.

Bring it to a low simmer for 2-3 minutes then remove from the heat and set aside.

In a large skillet, heat 2 tablespoons of the coconut oil over medium-high heat.

Cook the salmon, skin side down for 2-3 minutes per side, or until each side has a nice seared crust and is cooked through to the desired doneness.

Remove the salmon from the skillet and place half into an airtight container and store in the refrigerator for later use.

In a separate skillet, heat the remaining coconut oil and add the spinach and remaining garlic, salt, and pepper to the skillet.

Cook until the greens wilt, about 2-3 minutes.

On 4 serving plates, place some wilted greens, a piece of salmon, and then pour over some of the coconut-herb sauce to serve.
Dinner Answers has recipes like this and THOUSANDS more! Whatever your eating style, you'll find it in Dinner Answers. Choose your favorite recipes and the program automatically makes your menu for the week, AND the grocery list you that you can send to your phone (or your spouse's!) for easy grocery shopping. Get your own Dinner Answers right now.