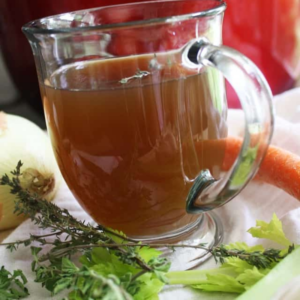 Traditional Chicken Bone Broth
Ingredients
2

pounds

roasted chicken backs*

2

pounds

roasted chicken feet*

7

cups

water

2

yellow onions

halved

3

cloves

garlic

3

stalks

celery

halved

3

carrots

cut into 2-inch pieces

3

sprigs

fresh rosemary

6

sprigs

fresh oregano

6

sprigs

fresh thyme

2

teaspoons

whole peppercorns

1

teaspoon

sea salt

2-3

tablespoons

apple cider vinegar
Instructions
In a large stock pot, place the chicken feet and backs, add water, turn the heat to high and bring to a boil.

Add onions, celery, carrots, rosemary, oregano, thyme, salt and apple cider vinegar.

Leave uncovered, and continue simmering for 3–4 hours, adding additional water, 1 cup at a time, if needed.

Strain and cool the broth completely, uncovered, discarding all bones, vegetables and herbs.
Notes
Again, this whole thing can be done in a very large slow cooker and cooked up to 2 days on low.
*To roast, preheat oven to 350 degrees, drizzle olive oil over the chicken parts and liberally sprinkle with sea salt and pepper.