You'd have a difficult time finding a home in North America without a bunch of bananas sitting on the counter.
Bananas are harvested all year long from trees, where they grow on the banana plant in clusters of 50–150 other bananas.
Delicious, nutritious, and so darn versatile, all wrapped up in their own biodegradable wrapper, there's a lot to love about this sweet and creamy fruit.
Did you know that bananas are so loaded with potassium that they can help you balance out a sodium overdose? If you've gorged on Chinese food or something very salty, eat a banana and you'll find yourself all fixed up in no time. That's because each cell in your body has a little sodium/potassium pump inside, and there's enough potassium in a banana to make things right.
Besides potassium, bananas are high in manganese, fiber, biotin, copper, and vitamins B6 and C.
Bananas can be eaten as a snack or even tossed into a smoothie. Don't go so bananas over bananas that you go overboard, though! They are still high in sugar and should be enjoyed in moderation. Stick with the little ones!
Now, it's time for your Trick:
When your bananas are getting too ripe for your liking, peel them and toss them in a freezer bag. Then, when you need a banana for your smoothie or a batch of banana bread, you have lots at the ready!
Your Tip:
If you're hungry for a banana and the ones on your counter are still green, wrap them in a paper bag with an apple and they'll ripen up quicker.
And your Recipes: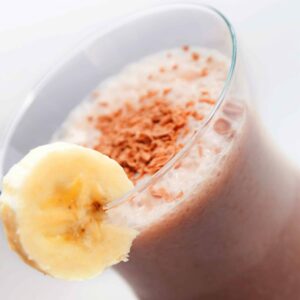 Banana Chocolate Almond Smoothie
Instructions
In a blender, add unsweetened almond milk, water, banana, almond butter, cacao nibs, Perfect Paleo Protein, Fibermender 2.0 (optional), and Just Juiced Greens (optional).

Blend until smooth and enjoy!

For a thinner smoothie, add more unsweetened almond milk.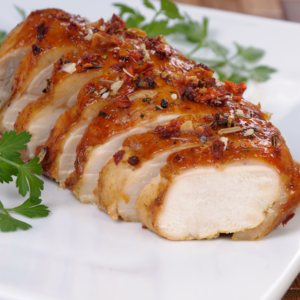 Jamaican Style Nutty Chicken
Ingredients
6

6-oz.

boneless skinless chicken breasts

1

tablespoon

unsalted butter

1

teaspoon

sea salt

1/2

teaspoon

freshly ground black pepper

1

6-oz can

orange juice concentrate

thawed

1

bay leaf

Juice of small lime

3

firm ripe bananas

thinly sliced

1/2

cup

roasted almonds
Instructions
Season chicken with salt and pepper to taste. Brown chicken on both sides in butter in skillet over medium heat. Reduce to low and add 1/2 cup water, 1 teaspoon salt, 1/2 teaspoon pepper, orange juice and bay leaf. Bring to boil, cover and simmer for 20 minutes (turn chicken once while cooking). Remove chicken and keep warm. Bring liquid to a boil over high heat for 5minutes, constantly stirring. Stir in lime juice and bananas; heat gently. Place chicken on serving dish, top with sauce and sprinkle with nuts.
Notes
SERVING SUGGESTIONS: Sweet potatoes and steamed broccoli would round this meal out nicely.
Did you know that when you purchase any flavor Perfect Paleo Protein, you receive the added bonus of ebooks containing 80 (yes, EIGHTY) smoothie recipes? Order yours today!