There's nothing like a gorgeous purple beet sliced onto a salad, roasted in the oven, or juiced with some greens and other veggies to make a beautifully colored glass of deliciousness.
What's this you say? You don't love beets? Well, maybe you're just not doing it right!
Beets are in season now and they are one of those root veggies you should not be walking past without bagging up for dinner. Not only are beets delicious and beautiful, but they are also full of nutrients like magnesium, vitamin C, fiber, and folate.
As I mentioned, you can enjoy beets raw in juice or salads, or you can cook them in a variety of ways. Steam them, stir fry them or roast them and see how you enjoy them best. Don't forget to top them with butter or a squeeze of lemon juice and salt and pepper. Mmm, mmm!
Here is a helpful beet Trick:
That red beet juice can stain your skin and your clothes so be cautious of what you wear when you're handling beets. Wear gloves if you want to prevent skin stains. If you do happen to get some of the juice on your hands, lemon juice will help remove it.
Here is a Tip:
Beets are one of the crops in the US which are allowed to be genetically modified. For this reason, buy organic beets or look for the Non-GMO Project verified seal to avoid consuming GMOs.
And here is a delicious beet Recipe: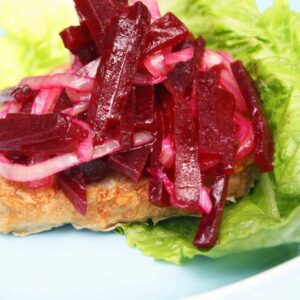 Chicken Burgers with Pickled Beets
Ingredients
1 1/2

pounds

ground chicken

sea salt and freshly ground black pepper

to taste

1

small clove

garlic

minced

1

teaspoon

chili powder

1

tablespoon

coconut oil

1

large

onion

sliced

2

tablespoons

apple cider vinegar

1

teaspoon

raw honey

2

large

beets

shredded

8

large

romaine lettuce leaves
Instructions
In a medium bowl, mix the first 4 ingredients (chicken through chili powder).

Form chicken mixture into patties.

Heat grill to high heat and place burgers on the grill.

Cook for 10 minutes on each side, until burgers are no longer pink in the center.

In a large skillet, over medium heat, heat coconut oil.

To the skillet, add the onion, vinegar, honey, and beets.

Season with sea salt and freshly ground black pepper to taste and cook for 5 minutes until vegetables are tender.

Place burgers on lettuce leaves and top with sautéed onion and beets.

Serve warm.
Notes
SERVING SUGGESTION: Sweet Potato Fries (Peel sweet potatoes and cut into "fries"; toss with olive oil and bake on a cookie sheet in a preheated 425-degree oven, turning once, until tender; season to taste with salt, pepper and chili powder.)
Looking for more delicious recipes like this one? Check out our Dinner Answers program today!