I grew up in the '70s where wide bell bottoms, Richard Nixon, and Charlie's Angels reigned supreme. And even though Helen Reddy was singing, "I am Woman, Hear Me Roar", most homemakers of that time weren't exactly burning their bras…they were figuring out the art of juggling a home and a career and were more interested in not burning dinner!
You could say I was one of the original latchkey kids from that era. My mom worked full-time most of my childhood, except when we were really young. She was organized and disciplined. In her words, she ran a "tight ship". Dinner was never a question mark. My dad, brother, sister, and I were never left to our own devices to figure out what to root around in the kitchen for dinner; there was a plan and we stuck to it. As I got older, I was expected to start dinner before my mom got home.
My sister and I took dance lessons, piano and my brother played baseball. Later on, I had cheerleading practice to add to the busyness. But the question of what was for dinner never went unanswered. The answer was posted on the refrigerator in the form of a menu. Why? My mother planned our meals.
Hectic and busy is here to stay in today's economy. The standard is a two working outside of the home parents. The norm is lessons, sports, and crazy schedules for everyone. Having dinner be the dreaded question each day doesn't make a lick of sense. The answer, of course, is a plan; a menu like my mother posted on our refrigerator week after week.
I need to go back to Memory Lane here for just a minute. Even though my mother worked full-time, I still learned to cook. My mother didn't think she got a pass at not teaching me because she held a full-time job outside of the home. To her, cooking was as integral as brushing your teeth; it is something you do to care for yourself and eventually, others in your home. Cooking was mandatory.
That is my message today. Cooking is essential to healthy living. Planning is critical for making it happen. And yes, it's mandatory. There is no reason not to cook; it's just a matter of making friends with a plan, getting to know your major appliances, and jumping in.
Don't be intimidated! Besides the necessity factor, cooking can be fun (scout's honor!). This is why I do what I do; to help turn a chore into a joy and make your cooking an adventure! Yes, it can happen! Come join me and see what I mean…you know where I live!
Here's a crockpot recipe that turns a small appliance into a dear friend—enjoy!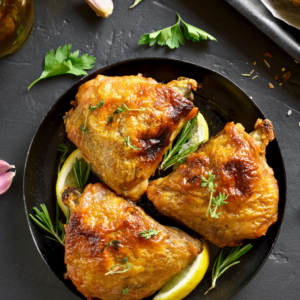 Crock Pot Chicken Indonesian
Ingredients
8

skinless chicken thighs

2

tablespoons

low sodium soy sauce

4

cloves

garlic

pressed

1

tablespoon

grated fresh ginger root

2

teaspoon

sesame oil

1/4

teaspoon

cayenne pepper

or less depending on your heat index

1/2

cup

peanut butter
Instructions
In a small bowl, combine soy sauce, garlic, ginger, sesame oil, and cayenne pepper. Place chicken in a crock pot. Spoon sauce mixture over the top of the chicken. Cover and cook on low heat setting 6 1/2 to 7 hours or until chicken is tender and fully cooked. Remove chicken from crock pot and stir peanut butter into juices until smooth. Spoon sauce over chicken to serve.
Notes
SERVING SUGGESTIONS: Brown rice and some steamed broccoli and cauliflower.
PS–You can receive delicious menus (complete with shopping lists!) like this delivered right to your email inbox by subscribing to Dinner Answers today!