Collard greens are usually cooked along with smoked meats and served as a side dish. They are part of the traditional New Year's Day meal in the South that includes black-eyed peas and cornbread. The collard greens are said to resemble folding money and consuming them on New Year's Day is believed to bring financial luck in the year to come.
Many people consume collard greens for their health benefits. They are loaded with Vitamins K, A, and C. They also contain high amounts of beta carotene and manganese. Collard greens are have an anti-inflammatory effect and can help lower cholesterol. They are one of the few vegetables that actually increase their nutritional value when boiled.
Here's Today's TRICK:
Washing collards can be tricky because you have to prepare so much to get so little due to the wilting process. Just get a big pot, fill it with water, and put a handful at a time in the water, spin around with your hands, then dip the collards out of the water with your hands and set aside. Change the water often as it gets dirty.
Here's a TIP:
Remove the stem before cooking by pulling greens away from the top of the stem. Tear into bite sized pieces while removing the stem.
And your RECIPE:
Here is a very simple, introductory recipe for beginning greens eaters–enjoy!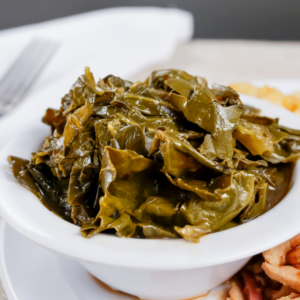 Braised Great Garlicky Greens
Ingredients
1

bunch

collard greens

deribbed, chopped

1-2

tablespoons

olive oil

1-2

cloves

garlic

pressed or chopped fine

Salt and pepper

to taste

rice wine vinegar

optional
Instructions
Wash well, derib your collards. In a skillet, heat the olive oil over a medium high heat and sauté the garlic till tender, but don't let it brown.

Add the greens and keep stirring till they are nice and bright green. Now add about an inch of water to the bottom of the skillet, cover, and simmer till tender.

It may take awhile for the collards, and add a little more water if necessary. Stick a fork in to test for tenderness.

Salt and pepper to taste, then serve with rice wine vinegar on the side (that's how I love 'em!). Completely delicious and highly nutritious.