Girls can grill too so go get your grill on! 🙂
Here's today's TIP:
When using a grill, whether it is gas or charcoal, it is imperative to preheat it. You cannot put the food on a cold grill and start that way for the same reasons you don't stick food in an oven that hasn't been preheated—it messes up the cooking time and the way it should cook. Don't do it!
Here's today's TRICK:
Don't forget to get a good wire brush to clean the grill, too. Keeping the grill immaculate will improve what you're eating immensely. "Burning off" the old food only works to a degree—you need the brush!
And your RECIPE:
Marinades are a good excuse to fire up the barby! These wonderful concoctions infuse themselves into foods and makes for a delicious choice for healthy cooking. Marinades also tenderize and turn even the most mundane piece of meat or poultry into something exotic and full of flavor.
Try this recipe and see what I mean, enjoy!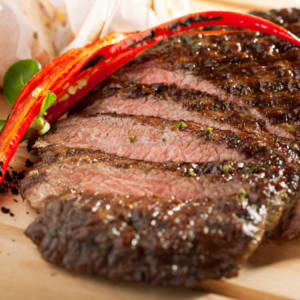 Marinated Flank Steak
Ingredients
1/2

cup

honey

1/2

cup

soy sauce

low sodium if available

1/2

cup

red wine

3

cloves

garlic

pressed

1/2

teaspoon

dried rosemary

crumbled

1/2

teaspoon

chili powder

1 1/2

pounds

flank steak
Instructions
In a large, plastic zipper topped bag, mix together the honey, soy sauce, and red wine, garlic, rosemary, chili powder and pepper. Add the flank steak and marinate overnight in the fridge. Make sure you turn it at least once in the marinating process.

Light the barby and let the coals get medium hot. Grill the steak for 7 minutes per side for medium rare, or to desired doneness. Let stand 10 minutes before slicing very thin against the grain.
Notes
SERVING SUGGESTIONS: Serve with steamed broccoli, corn on the cob and a big green salad.
VEGETARIANS: You can always use tempeh and marinate it for an hour or so. I'd add some hardy veggies like zucchini, yellow squash onion and cherry tomatoes and marinate the whole bunch, thread them on bamboo skewers and enjoy!