Parsley, the world's most popular herb, is a common accompaniment to many dishes in the kitchen and is often used as a beautiful garnish. A rich source of antioxidants, vitamins C and A all of which are thought to reduce infection rates and keep you  healthy. Replete with heart healthy folic acid it is a great addition to your diet and so much more than a pretty decoration on your plate.
You can combine with garlic and lemon for a nice rub for your roasted chicken, or add to pesto, or marinara and salads to kick up the flavor of your favorite dishes.
Here's today's TRICK:
Choose fresh parsley over dried due to the superior nutrient and flavor content. Keep it stored in the fridge, in plastic bag, sprinkled with a bit of water. Wash right before using by swishing it around in a bowl of cold water to avoid damaging the fragile leaves.
Here's a TIP:
Pregnant women should avoid high doses of parsley in its supplement or oil forms because it can cause preterm labor. For dishes that require long cooking times over an hour, add parsley toward the end of the cooking time to avoid losing flavor and nutrition.
And your RECIPE: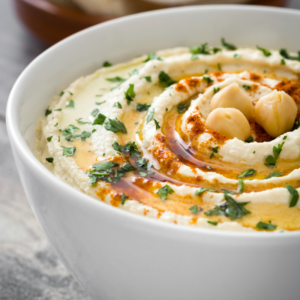 Parsley Garbanzo Dip
Ingredients
2

cups

cooked garbanzo beans

can use canned, drain and rinse

2

cloves

garlic

mashed

1/2

cup

fresh parsley leaves

packed

1/4

cup

water

3

tablespoons

lemon juice

1/2

teaspoon

sea salt

1/4

cup

extra virgin olive oil
Instructions
Using your food processor blend all ingredients until smooth adding oil slowly at the end. Great with all kinds of raw cut up veggies.