Tips, Tricks, & a Recipe
Protein Powder
by Leanne Ely, CNC
Today's focus is on protein powder.
I use this in my smoothies every day and am often asked which brand I prefer or what to look for when purchasing a protein powder.
Research has shown that including protein powder in your diet every day can help boost your immune system, promote healthy skin  and improve muscle strength and development. A human body needs protein daily because that is what muscles and tissues are built from. The body can't store extra protein so it needs a constant source via your diet. The need for adequate protein in the human body is second only to the need for water.
Here's a Tip:
Look for WHEY protein powder. It can be digested quickly so your body can start using it to build muscle and increase circulation. You want 15 grams of protein per scoop or more, natural ingredients, 5 grams of sugar or less! Read the labels, there are even protein powders out there that only have protein powder in them, no additives at all, like this one.
Here's a Trick:
Think outside the smoothie. Protein powder can be used in lots of different ways including in cottage cheese for a healthy snack and can be stashed even in pancakes!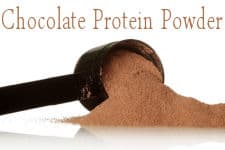 And Your Recipe:
Here's a few fun recipes to use your protein powder:
Protein Powder & Oatmeal:
This is a fast and easy breakfast. Simply add a scoop of protein powder to your normal oatmeal serving after you have cooked it. You may wish to add a little more water before cooking as the protein powder will act as a thickener. Other additions that you can add to increase the taste and nutrient profile are peanut butter, chopped or frozen fruit and milk.
Protein Nut Butter Balls:
3/4 cup natural peanut butter or other nut butter
1/4 cup local honey
1 scoop chocolate or vanilla protein powder
1/2 cup raw oats
Mix all ingredients together in a bowl and form into small 1-inch balls. Place in the fridge for a few hours and then enjoy.
Oatmeal Pancakes:
1 cup raw oats
1 scoop protein powder
3 egg whites
1/4 cup water
1 1/2 teaspoons cinnamon
2 teaspoons xylitol
1 1/2 teaspoons baking powder
Combine all ingredients in a blender and blend for 30 seconds. Then pour onto a hot grill and cook like a normal pancake. You can add some frozen fruit after the batter is blended if you want.