Oh, cinnamon. How recognizable is this spice, seriously? I would expect that every kitchen in North America has a tin of cinnamon in the cupboard. But how well do we really know it?
Once upon a time, cinnamon was very, very valuable. In Roman times, you would have paid 15 times more for cinnamon than you would for silver! Ancient Egyptians used cinnamon as an embalming agent. In the 17th century, the demand for cinnamon sparked a war between the Portuguese and the Dutch over the island of Ceylon where a great deal of cinnamon is grown.
What a sordid past this spice has! But there's still more to know about cinnamon.
Ground cinnamon comes from cinnamon sticks (also known as quills), which are actually the dried bark from evergreen trees of the genus Cinnamomum.
There are two main types of cinnamon and they are Cassia and Ceylon. Cassia is the variety that we're most familiar with and it is indigenous to China, Vietnam, and Indonesia. The Ceylon cinnamon that sparked that war is native to Sri Lanka and it has a much sweeter taste.
Cinnamon adds a pleasant sweet spice to baked goods, pancakes, stews, and other savory dishes. A sprinkle of cinnamon is a must when it comes to homemade applesauce. And a pinch of it on a few raw apple slices makes a wonderful mid-day snack.
There's not a lot of nutrition in cinnamon itself, but one teaspoon does contain almost a gram and a half of fiber and a bit of iron and calcium. Cinnamon may also reduce blood sugar levels.
And there you have it! Do we all have a little more respect for this pungent brown spice, now?
Well then, it's time for your Trick!
Put a couple of tablespoons of cinnamon in a pot of simmering water on the stove for a wonderfully warm and chemical-free way of scenting your home.
And your Tip
Ground cinnamon only has a shelf life of about 6 months. If the scent is not pungent or if the flavor isn't quite as strong as it should be, use it as an air freshener, buy some more and call it a day! (This would be a good time to replace that cinnamon with an organic variety, by the way!)
And your Recipe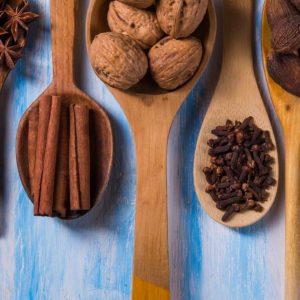 Cinnamon-Spice Chicken
Ingredients
2

tablespoons

olive oil

4

6-oz

boneless skinless chicken breast halves

1/4

teaspoon

sea salt

1/2

teaspoon

freshly ground black pepper

1/4

cup

dry white wine

OR low sodium chicken broth

1/4

cup

water

1/4

teaspoon

ground cinnamon

1/8

teaspoon

ground cloves

1/8

teaspoon

ground nutmeg
Instructions
Heat the olive oil in a large skillet with a tight-fitting lid over medium-high heat.

Sprinkle chicken with salt and pepper; add to the skillet and brown on both sides.

Add wine (or broth) and water to the skillet and sprinkle the chicken with cinnamon, cloves and nutmeg.

Reduce skillet heat, cover and simmer 5 to 6 minutes or until chicken is cooked through.

Serve chicken topped with pan sauce.
Looking for more delicious recipes like this one? Check out our Dinner Answers program today!