If you've ever walked past a watermelon radish at the grocery store, you probably did so not knowing how pretty this vegetable is when you get beyond the surface.
The next time you encounter one of these unsuspecting round root vegetables, I encourage you to purchase one and give it a whirl.
A relative of the daikon radish, watermelon radishes are much larger, milder, and sweeter than the common little red radishes that we're used to. They are green on the outside and are about three inches in diameter. Some watermelon radishes can weigh up to a pound, so they're not teeny little veggies.
While they look pretty boring on the outside, when you slice through and see the bright watermelon-pink flesh, you'll see what the fuss is about!
The watermelon radish is extremely rich in vitamins, minerals, and antioxidants.
I'm a big believer in adding new veggies and fruits to your diet all the time to experience new tastes and textures, and to increase your nutrition. If you've yet to experiment with radishes, now's the time!
Watermelon radish is an easy one to love.
Now that you've added watermelon radish to your grocery list, it's time for your Trick:
Watermelon radishes may be cooked and mashed like turnips, but when you do that, you lose their gorgeous color. Slice them onto salads or pickle them instead!
Your Tip:
Watermelon radishes are generally harvested in the fall, but you can find them at most well-stocked grocery stores year-round.
And your Recipe: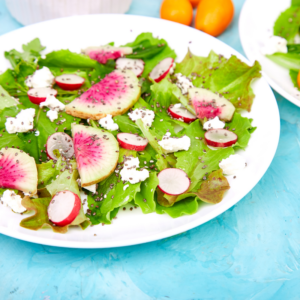 Watercress and Radish Salad
Ingredients
DRESSING:
1/3

cup

low fat sour cream

3

tablespoons

white wine vinegar

1 1/2

tablespoons

prepared horseradish

Sea salt and freshly ground black pepper

to taste
SALAD:
6

cups

watercress

3

watermelon radishes

sliced
Instructions
DRESSING:
In a small bowl, whisk together sour cream, white wine vinegar, horseradish and salt and pepper.
SALAD:
Divide 6 cups of watercress and radishes evenly among dinner plates; drizzle with dressing.
PS–You can receive delicious menus (complete with shopping lists!) like this delivered right to your email inbox by subscribing to Dinner Answers today!