If you've ever sat down to a feast of Chinese food, you've likely encountered a water chestnut or two. These crunchy, juicy morsels are used very commonly in Chinese cooking-more for their bite than for their flavor because on their own, they really don't have much of a taste at all.
So what are water chestnuts?
Surprise-they aren't nuts at all! A water chestnut is an edible tuber of a water plant that grows in marshes in southeast Asia (hence the vegetable's popularity in Asian cuisine). They get their name from their dark brown color and round shape, which really does resemble the chestnut we're familiar with.
If you're only familiar with the peeled, sliced or whole water chestnuts you find in the grocery store, you're really missing out because, like with anything else, fresh is far superior when it comes to these mildly sweet tubers.
If you have a good Asian market near you, see if you can source fresh water chestnuts. They have papery, dark brown skin covering their lovely white flesh.
Although I'm not overly fond of water chestnuts, I will add them to stir-fries after I've plated my own (they add a nice crunch!) and they are also amazing wrapped in bacon (isn't everything?).
Water chestnuts aren't terribly nutrient-dense, but they do contain very small amounts of phosphorus, magnesium, zinc, copper, and potassium. These little guys are quite high in carbs, so don't overdo it!
Now that we're all craving Chinese food…
It's time for your Trick!
When purchasing fresh water chestnuts, avoid selecting ones with signs of shriveling. They should be nice and firm.
And your Tip:
When you get your water chestnuts home, wrap them tightly in a plastic bag and keep them for up to a week in the refrigerator. Peel them before using them.
And your Recipe: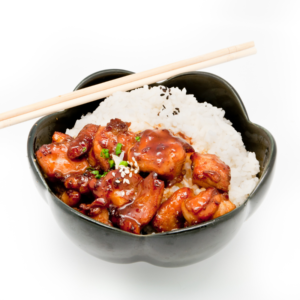 Teriyaki Orange Pork
Ingredients
2

tablespoons

olive oil

3/4

cup

orange juice

1 1/2

pounds

boneless pork

cut into 1-inch cubes

3

tablespoons

instant tapioca mix

1

pound

green and/or red bell peppers

cut into strips (about 3 to 5, depending on size)

6

tablespoons

teriyaki sauce

3/4

teaspoon

freshly grated ginger

6

ounces

sliced water chestnuts

3/4

teaspoon

dry mustard
Instructions
Heat the oil in a large skillet over medium-high heat; brown pork on all sides (you're not cooking it through, just searing the outside to seal in the juices). Combine bell pepper, water chestnuts, orange juice, tapioca, teriyaki sauce, gingerroot and dry mustard in slow cooker; add the pork and blend well. Cover and cook on Low for 7 hours.
PS–You can receive delicious menus (complete with shopping lists!) like this delivered right to your email inbox by subscribing to Dinner Answers today!