A close relative of the beloved fuzzy peach, apricots (which are in season right now) are sweet and juicy with soft velvety skin and a flavor that will remind you of a plum.
Rich in vitamins and nutrients, and full of fiber and antioxidants, apricots are a nutritious and delicious little snack. These small round fruits can actually help to lower your LDL cholesterol levels and they can protect against heart disease!
Now, fresh apricots are a much better choice than dried, especially the bright orange dried apricots you find that have been treated with sulfur dioxide in order to extend their shelf life. Many people are sensitive to sulfites (an estimated one in one hundred) so it's best to avoid them when possible.
Many health food stores sell naturally dried apricots so keep your eye out! Warning: they do not look as pretty as those which have been treated with sulfur dioxide, but then again, beauty is in the eye of the beholder!
Now, it's time for your Trick:
Try drying your own apricots in your food dehydrator or using the oven. If you turn your oven on its lowest heat and prop the door open, it will dehydrate your halved apricots (simply remove the pit and put the apricot halves face down on the pan) in about 8 hours.
Your Tip:
When shopping for apricots, choose fruits with rich, orange-colored skin. They should be soft to the touch to indicate ripeness. Apricots that are firm indicate they haven't been tree-ripened.
And your Recipe: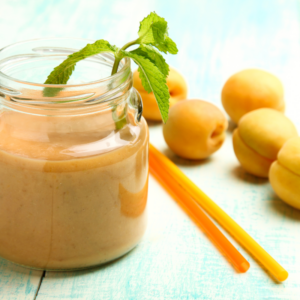 Apricot Almond Smoothie
Instructions
In a blender, add unsweetened almond milk, apricots, almond butter, chia seeds, Perfect Paleo Protein, Fibermender 2.0 (optional) and Just Juiced Greens (optional); blend until smooth and enjoy! For a thinner smoothie, add more unsweetened almond milk.
If you like this smoothie recipe, you'll love the recipes that come with our Perfect Paleo Protein!