Today's focus is on: WINTER SQUASH
There are two kinds of squash: winter squash and summer squash. The difference is that the winter varieties are normally better suited to survive the winter in storage (think hardy squashes like butternut squash and acorn squash), while summer squash tends to have edible seeds and peels, and a shorter life cycle (zucchini and pattypan).
This time of year, you see lots of winter squashes popping up. I love them all, but my favorites include buttercup, butternut, and acorn squashes.
Winter squash is very sweet in flavor-as are most fruits (yes, anything with seeds is a fruit)-, and it's quite easy to eat.
Winter squashes are delicious in soups and warm salads or mashed with butter for a nutritious side dish.
Yes, winter squashes are very good for us. Winter squash is high in vitamins A and C, riboflavin, and iron. Its signature orange color means it's full of carotenoids, giving it lots of antioxidants.
Before you go pick up some winter squash to enjoy, it's time for your Trick:
Spaghetti squash is a winter squash that makes an excellent gluten-free (and nutritionally dense) noodle. Cook it up, and top with pasta sauce for a yummy pasta dish that the whole family can enjoy.
Your Tip:
I prefer my winter squash roasted over boiled to keep in as many nutrients and flavors as possible. Simply slice the squash in half, lengthwise, scoop out the seeds and slice a bit off the rounded part to help it stand up evenly in the oven. Drizzle with maple syrup and top with butter. Roast at 350 for about 15 minutes or until fork-tender. Mmm.
And your Recipe: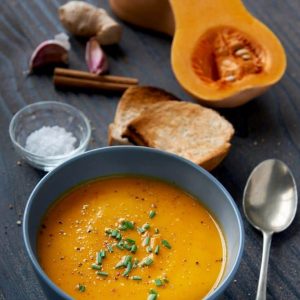 Butternut Bisque
Ingredients
1

large butternut squash

3/4

cup

chopped onion

1

clove

garlic

pressed

1

apple

cored and diced

2

teaspoons

unsalted butter

2

tablespoons

whole wheat flour

1

teaspoon

curry powder

1

teaspoon

ground nutmeg

4

cups

low sodium vegetable broth

divided

1

tablespoon

tomato paste

1/2

cup

evaporated skim milk

1/2

teaspoon

sage
Instructions
Prepare squash by cutting in half and baking for 90 minutes OR by microwaving for 10 to 15 minutes or until softened.

Melt the butter in a large skillet over medium heat; sauté onion, garlic and apple until onion is translucent.

Add flour, curry powder and nutmeg and continue to cook until apple is tender.

Place squash in a food processor or blender along with skillet ingredients; add 1 cup of broth and puree until smooth.

Pour contents into a large saucepan or Dutch oven.

Add remaining broth, tomato paste, evaporated milk and sage.

Bring to a boil over medium heat, then reduce heat and simmer for 3 to 4 minutes before serving.
Notes
NUTRITION per serving: 224 Calories; 2g Fat; 13g Protein; 45g Carbohydrate; 9g Dietary Fiber; 4mg Cholesterol; 416mg Sodium. Exchanges: 2 Grain (Starch); 1 Lean Meat; 1/2 Vegetable; 1/2 Fat. Points: 4
—————————————-
Don't forget about the amazing One Pot Collection!  This is the perfect opportunity to stock up on warm recipes to get you through the winter—>learn more here!