Food For Thought
Cracking the Organic Egg Code
by: Leanne Ely, CNC
Who knew shopping for eggs could be so hard? It's just like bread– you see one that says whole wheat and then another that says whole grain and you're torn as to which is actually the best choice. Am I right? As far as eggs are concerned, with having to discern between labels like: organic, free-range, natural, and conventional–which ones do you choose? And what is the best egg, best for you and will cost you the least amount of money?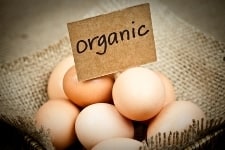 As a rule, organic is always the best route to go! Those chickens are fed better food than their non-organic counter-chickens and their eggs are already cage-free. Why go through the trouble of trying to decipher which label is the best for you when organic encompasses all the others?
And here's some bonus nutrition info–organic doesn't have as much saturated fat, it has less cholesterol, more vitamins A, D, B12, E, and almost double the amount of omega-3 fatty acids! It's been said that eggs are the perfect food; I'd have to agree with that, just make sure yours are organic!
Basted Breakfast Recipe:
2 eggs
1/4 cup (or just a splash) of water
1 piece of thick-cut whole grain bread, toasted
Salt and pepper to taste
Unsalted butter (for toast and pan)
Heat pan on medium high. Melt butter to cover bottom of pan. Crack both eggs into pan and salt and pepper. After about 30 seconds to a minute add water and cover pan. It will only take a couple of minutes (no more than four minutes) for your eggs to reach a perfect medium consistency. Remove from pan and place on top of toast. Yum!
Want to save breakfast in your household (maybe lunch too)? Check this out–SAVING BREAKFAST & LUNCH BUNDLE
Saving Dinner has partnered with Kids Bowl Free to give you a chance to win great bowling prizes!  Kids Bowl Free is a great program for both children and families, where kids can bowl 2 FREE games, every day all summer long!
To enter to win the prizes and sign up for this great FREE program, just visit http://www.kidsbowlfree.com.  Click on the map on the home page to locate the bowling alley nearest you and sign up your kid(s).  Make sure to enter "SavingDinner" in the Referrers Email Address Field to be eligible for the bowling prizes!
Comments
comments