Feeling funny about fennel? What is it and how to use it? Fennel is a green blub type of stock with a very leafy flourishing top. It kind of looks like leeks mated with parsley, LOL. It has a really interesting flavor; it has a similar taste to that of licorice and texture closely related to celery, which may sound peculiar, but it brings a unique sweetness and savory flavor to many summer dishes.
And what about the health benefits? Oh, they are numerous! Lots of vitamin C, fiber, folate, and potassium; great for boosting your metabolism and immune system. As a bonus, fennel may aid in lowering blood pressure. Who knew you'd get so much from such flavor?
Here's your TIP:
The whole fennel can be put to good use when cooking! The base of the fennel is what is typically used because it's the meatiest part of the vegetable, but the stocks can be used to make broths or soups, and leaves can be used in a garnish or even seasoning! A waste-free veggie!
Here's your TRICK:
For a distinctive summer treat, try sun-steeping some simple green tea with a stock or two of fennel and some mint leaves! Just chill after an hour or two of being in the sun.
And for your RECIPE: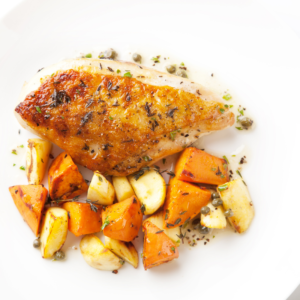 Roasted Fennel and Sweet Potatoes
Ingredients
4

large

sweet potatoes

peeled and sliced

4-6

fennel bulbs

depending on size, sliced

1

large handful

garlic cloves

2

tablespoons

olive oil

1/2

teaspoon

nutmeg

Salt and pepper

to taste
Instructions
Preheat oven to 350 degrees.

In a 9- x13-inch baking dish, layer sweet potatoes and fennel bulbs. Spread cloves of garlic equally in dish. Mix spices in a small dish. Pour olive oil over everything in dish and then sprinkle spices over the top. Bake for roughly 10-20 minutes or until tender.
Notes
This makes a great side dish for roasted chicken.