Dinner Diva
Craving some fabulous Tex-Mex?
By: Leanne Ely
REMEMBER THE ALAMO!!! That's a foodie's code for "I need Tex-Mex, stat!"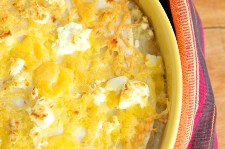 And who doesn't adore Tex-Mex anything? It's a favorite and my house and I've got my own secret weapons for making it.
Like this casserole for example. It's simply to die for. I have never had anyone not love it. As a matter of fact, I could use this dish to get anything I wanted I believe (and now you can too!)
Enjoy!
Reyna's Green
Serves 6
1 tablespoon olive oil oil
6 boneless skinless chicken breast halves, cooked and diced (I use leftover grilled chicken)
2 medium onions, chopped
2 cloves garlic, pressed
2 teaspoons cumin
12 corn tortillas
2 cans tomatillos *about 30 ounces total, or use green enchilada sauce if you can't find canned tomatillos
12 ounces jack cheese, grated
In a skillet, saute 1/2 the onion in about a tablespoon of oil. Cook for 2 minutes and add garlic. Cook another 2 minutes and add chicken and cumin. Mix well, set aside.
In a blender, add the rest of the onion and the two cans of tomatillos, juice and all. Blend like mad.
Preheat your oven to 375 and get out a 9 x 13 casserole dish. Pour about a 1/2 cup of sauce on the bottom of the pan and begin building your casserole. Start with sauce (already said that) tortillas, chicken mixture, little cheese and repeat this pattern till finished. If you're obsessive/compulsive and don't end up just right at the end, don't come crying to me about it. Pour the rest of the sauce evenly over the top and sprinkle remaining cheese over that and bake for approximately 20 minutes or when done. Don't overbake, though. You want it hot and melty. Not hard and browned.
Per serving: 308 Calories; 6g Total Fat; 42g Protein; 21g Carbohydrate; 108mg Cholesterol; 156mg Sodium
SERVING SUGGESTIONS: a big old green salad!
Want more great casserole recipes? Try our Simply Delicious Casseroles!Fundraising
Saving Dinner Fundraising Takes Care of Busy Families
Fundraising
Saving Dinner Fundraising Takes Care of Busy Families
By: Daniel Munns
The first five months of 2012 have been an extremely busy time for Saving Dinner Fundraising.  We spent a good deal of time and effort traveling the country spreading the word about our unique healthy fundraiser, and we continue to put a ton of focus on improving the product.  While the main part of our travel schedule is over, we have no intention of slowing down and will actually be even busier than ever.  In fact, we are currently working on a new feature to our program that will revolutionize how you raise money for your organization. More details to come over the next few weeks!
With this being said, we know y'all are busy too.  Whether you are working a full-time job, running a household, coordinating your children's lives, or all of the above, we know there is not a lot of time left over.  One activity that is often pushed aside due to a busy schedule is planning what's for dinner. Thankfully, Saving Dinner Fundraising has a solution that allows you to do this without the time drain!
The packages for sale through our program are some of the most popular Saving Dinner meal-planning products that save you time and worry.  Fundraising Account Manager Angela Paul agrees:  "I have used a variety of the Saving Dinner products over the past 10 years and they have been a tremendous help to me personally.  I love the shopping lists and feeling in control at the end of the day – not having to scramble for something 'quick' for dinner."
If this sounds all to familiar to you, check out our Busy Mom Package, the perfect solution for parents with not a lot of time to stress about getting dinner on the table.  This is just one of the 16 different options we currently have for sale, however its only available through the fundraising program.  Send us a note Here to learn how you can create an account for your school or group, and start saving dinner, time and raising funds!
Comments
comments