If you want to lose weight, try eating breakfast. Oh I know, you're going to tell me you aren't hungry—just give me some coffee and all will be right in my world. Or so you think.
The problem is that nothing will be right in our world if we perpetually do this. Not eating breakfast means we haven't started our engines so to speak and consequently, we're putting our metabolisms on hold. That means the body clutter we sit on won't budge. How 'bout that? Does that work for you?? It definitely doesn't for me!
I have diligently applied myself to this Body Clutter principle to EAT BREAKFAST! And it's made a difference, helping me to shed over 50 pounds of Body Clutter. But there have been times when I didn't want to eat anything. So guess what I did? I DRANK my breakfast!
Here's a smoothie recipe that I make every day for everyone in my household. Oh and here's something I REALLY love about this smoothie (besides the fact that it tastes AWESOME)—it helps make vitamins go down without gagging because it's nice and thick! That's a biggie for me, so check this wonderfully easy recipe out!
Ladies and Gentlemen… start your BLENDERS!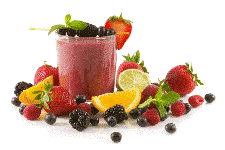 Breakfast in a Glass
Instructions
Put everything in a blender (I have a 450 watt blender that works great!) and LET HER RIP!
Notes
You can mix it up on the fruit, but my preference is berries as they are low glycemic.  This smoothie has more nutrition than my previous concoctions…enjoy!
Smoothies are pretty forgiving–the only necessary component is ice or frozen fruit to make it shake-like.
That's it. Pretty simple, isn't it? That's how easy breakfast can be in the morning. This smoothie takes me all of two minutes to make.