Dinner Diva
3 Dinners with Boneless Chicken Breasts
By Leanne Ely, C.N.C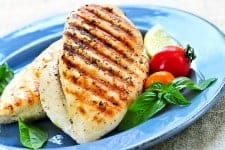 The great thing about boneless skinless chicken breasts for the cook is they are like a blank canvas–the creativity and ideas to take this poultry to the next level is endless! Chicken takes on the flavors of the spices and ingredients accompanying it, making it amazingly versatile.
Besides being extremely convenient, boneless chicken breasts don't even need to be thawed before cooking (most of the time anyway) and are great way to get your clean, lean protein.
Bon appetite and enjoy all these great new recipes, all using chicken and a delicious fruit salsa!
Chicken Tacos with Fruit Salsa
Serves 6

The Salsa
1 cup cubed fresh pineapple (or use frozen)
4 nectarines, pitted and chopped (or use frozen peaches)
2 mangos, peeled and chopped (or use frozen)
2 large tomatoes, chopped finely
1/2 cup diced red onion
2 limes, juiced (use only juice)
2 tablespoons chopped fresh cilantro
1/4 teaspoon  sea salt
1/2 teaspoon ground cracked black pepper
1 small jalapeno pepper, seeded and chopped finely
Combine all ingredients in a bowl tossing gently. May store in fridge for up to 24 hours before serving. You may also process, prior to chopping, in a food processor to desired consistency.
The Tacos

4 large boneless skinless chicken breast halves, cut into bite sized pieces
1 cup lemonade
2 tablespoons olive oil
1 tablespoon lime juice
1 1/2 teaspoons Worcestershire sauce
1 clove garlic, peeled, smashed
2 green onions, chopped finely, including green part
1 (12 ounce) package corn tortillas
1 container Greek yogurt (use like sour cream)
In a large skillet over medium high, heat oil until hot, then add onion and garlic and cook until onion is clear. Add chicken, cooking until outside of chicken is white and center is almost done. Now add the rest of the ingredients, cover, turn down and simmer until chicken is no longer pink and juices run clear. Wait about 15 more minutes. Remove lid to cook down liquid if necessary.
While cooking the chicken, warm the tortillas in the oven until soft. Once chicken is cooked transfer to serving bowl, place chicken mixture into tortillas, wrap. Add yogurt and Fruit Salsa as desired.
Variations:  Use lettuce greens of your choice, pita halves for the shells. Put all ingredients out and let each person make their own. You can also use great big Romaine lettuce leaves in lieu of the tortillas for a truly low carb meal.
Grilled Chicken with Fruit Salsa
Serves 6

Fruit Salsa(from above)
6 skinless, boneless chicken breasts halves
2 cloves garlic, minced
1 teaspoon cracked black pepper grated
1 tablespoon fresh ginger
1/2 cup soy sauce
1/2 cup lemon juice
Combine juice, soy sauce, ginger, pepper, and garlic in a plastic bag or bowl with a good seal, place the chicken inside, seal and shake to coat, marinate for at least one hour, but no more than four, turning each 30 minutes or so.
Prepare grill or broiler. If you're using the broiler, place pan one rung from the top. If you're using the grill, use a medium direct heat. Remove chicken from bag, and discard the marinade. Grill chicken on s grill rack, or in a broiler pan, lightly oiled with olive oil. Cook 5 minutes on each side or until center of chicken is done. Serve with Fruit Salsa over chicken.
Chicken Taco Salad

1 head lettuce of choice, shredded (not Iceberg, no nutrition)
1 cup feta cheese, crumbled
1 green bell pepper, chopped
1 red bell pepper, chopped
2 cups tortilla chips, crushed
Grilled Chicken, cut into cubes
Fruit Salsa
Greek yogurt
In a large bowl mix all in ingredients except Greek Yogurt, separate into four to six servings, and top with a dollop of Greek yogurt.