Tips, Tricks, and a  Recipe
Celery
By Leanne Ely, C.N.C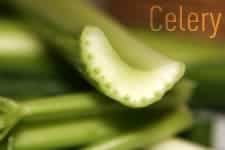 Celery provides a crunchy texture and fresh taste to both cooked and raw dishes. Try pairing celery with almond butter – they're a tasty duo.
Celery has quite the reputation in reducing cholesterol and a guard against germs and colds, being high in vitamin C. It's crunchy with a salty taste that can curb cravings for foods such as chips.
Celery is a snap to add to salads, tuna or chicken salad, and to all types of stews, soups and casseroles !
Here's Today's TRICK:
Store celery by wrapping it in foil in the refrigerator for long lasting storage. (I've had celery for a month this way before!)
Here's a TIP:
Celery tastes better in the summer when it's in season and you can use the entire stalk, leaves and all, in all your dishes.
And Your RECIPE:
Celery Apple Soup
2 tablespoons olive oil
1 onion, chopped
6 stalks celery stalks with leaves, washed, and chopped
5 cups vegetable stock
2 Fuji apples (or any red apple), peeled, cored, chopped
2 tablespoons fresh chives
1 cup Greek yogurt
Heat the oil in a stockpot or soup pot, add in onion, sauté five minutes until clear, add in celery and stock. Bring to a boil, reduce heat, simmer 10 minutes.
Stir in apples & chives, cook for 10 more minutes. Remove from heat and let cool. Process mixture in a food processor, blend until smooth. Return soup to the pan, stir in yogurt. Garnish with celery leaves. This soup can be served warm or cold.