Dinner Diva
5 Tips on Stress-Free Catering
by Leanne Ely, CNC
A few weeks back, I threw a bash for my husband's birthday and had nearly 50 people in our house. The food was enjoyable, fun and beautifully presented. I had people falling over themselves thinking I had cooked it all from scratch–well hardly! I could have done it, but why when I can cheat and have a party with that kind of delicious food?
I am going to give you five points on how to cater without the stress, frustration, and hitting your head against the wall. Consider it your cheat sheet.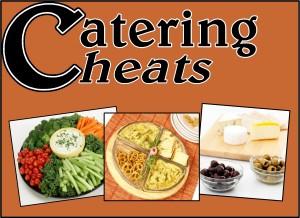 1.     Veg Out: Instead of buying and spending an hour chopping up vegetables for a simple veggie platter, buy an already prepared veggie tray! It's cheaper, there's no prep and all you have to do is transfer all the veggies to your own serving tray and arrange beautifully, removing all hints of predone.
2.     Say Cheese: A simple little cheese platter looks classy and who doesn't love cheese? Just buy a small wheel of cheese (brie is my preference) and cut out a portion and place on your platter. Add an assortment of crackers, some olives, artichoke hearts, and cornichon pickles. Keep in mind that you ought to place anything with juices (olives, artichoke hearts, pickles) in ramekins or little bowls so it doesn't make the crackers soggy. Add cheese knives and little appetizer forks for picking up the condiments and you have a great looking platter without a lot of fuss.
3.     Order Out: Repeat after me: you do not have to make the main entrée! It would take hours to prepare if you're hosting for more than 20 people–so why do it? For my aforementioned bash, I ordered a few burritos from Chipotle Mexican Grille. They're affordable and use organic and local produce and meat without added hormones or antibiotics so I'm all about supporting Chipotle. To cut down on how many I'd need, I bought half of what I needed and cut the burritos in half, how smart was that?
4.     Double Dip: Dips are one thing I'll typically make myself–they're easy, fresher and just plain taste better. The good news is you can make them a few days in advance. Just get your dips made up early, store them in the fridge a few days before and plop them into your pretty serving bowls when you're ready.
5.     Beauty is in the Eye of the Beholder: Presentation counts! It doesn't take much to make something pretty. Stay organized. When setting up your tables of food consider having more than one table if you have a substantial party on the horizon. Keep your serving platters labeled (I use 3 x 5 cards labeled so friends can help me out when it's time to put everything out; just get rid of the card after the tray or platter is filled) so you can keep track of what goes where and which foods go together. Flowers and candles are two classic ways to keep up appearances. You can place them almost anywhere and they'll brighten up your display. Runners, polished stones, acorns – whatever you have on hand! Go with what's seasonal and available, get a little creative and see what you come up with!
See, wasn't that easy?
P.S. Have you entered our >>Feed Your Freezer Sweepstakes<< for your chance to win a FoodSaver Vacuum Sealer? Tomorrow is the last day to enter and remember. . .you can enter once each day to increase your chances of winning. Don't miss out!