It's time for us to explore endive–have you ever had it?
Endive is extremely leafy with an almost lettuce-like appearance. It has either a light, nearly yellow, green color to their leaves, or a rich ruby red. Its flavor is unique and entirely its own. It's crisp and light with a sweet, some say nutty, taste and the smallest hint of bitterness. Like so many other veggies, it can be eaten raw or cooked! Another perk: they're grown year-round!

Of course, I wouldn't suggest this veggie if it didn't have the nutritional substance to back it up! It's low-fat and cholesterol-free and, always a bonus, very low in calories! It's a great source of complex fibers and packed full of vitamins and minerals (vitamins B and C, calcium, iron, zinc, magnesium, folate, and selenium). Endive is an excellent digestive aid and can be a contributing factor in the removal of toxins from the digestive tract.
Here's Today's TRICK:
Endives can be grilled! How to do it: cut heads of endive in half lengthwise. Soak them in water for about five minutes. Brush with a little bit of olive oil and grill over a medium setting, cut-side-down, until browned. Turn every couple of minutes until tender – should only take around 10 minutes.
Here's a TIP:
When picking out endives in the produce department you want it to fit this description: smooth, stout, crisp, firm, and the color should be as fair as possible. To ensure freshness for up to just about two weeks, keep it stored in a damp paper towel, in a plastic bag, within your produce drawer of the refrigerator.
And Your RECIPE: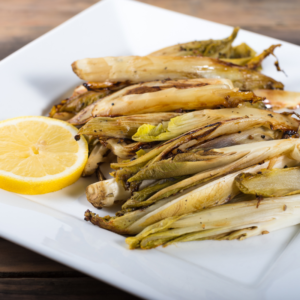 Braised Endive with Citrus and Honey
Ingredients
Endive Hearts

Sea salt

Olive oil

Orange juice

Honey
Instructions
In a skillet, bring water seasoned with sea salt to a boil and add endive hearts. Cook them for roughly 3 minutes, until they're tender but not falling apart. If the water isn't deep enough to submerge the hearts fully, turn them as they cook to ensure that all sides are equally cooked.

Remove the endive from the pan and discard the water. Dry the pan and add a tablespoon of olive oil. Heat on a medium setting.

Cut the endives into rounds, about 3-4 per heart, depending on how big the hearts are. Then add the endives to the pan, cut-side-down. Cook them until they start to brown and then turn them over and cook the other side.

Add a splash of orange juice to the pan and turn the endive rounds to coat each side evenly.

Remove endives from the pan and arrange on a serving plate.

Take the pan off the heat and add honey. Just a little honey is necessary to balance the tartness; taste it and see. Add just a little; you can always add more.