Figs aren't exactly regularly consumed fresh fruit in the USA, as much as they are overseas. Only available between June and September, it's a pity most of us only know figs from a cookie!
Figs are full of dietary fiber and potassium. Fiber as we all know is great for keeping the plumbing in working order and as a bonus, fiber is a fabulous component when it comes to managing weight loss. Potassium is known to help lower high blood pressure.
When you're storing fresh figs, be sure to keep them in a refrigerator – they'll keep their freshness for a couple of days. Be sure they're handled gently because they're a fragile fruit that can easily bruise. So go check out this little fruit that exists beyond the Fig Newton!
Here's Today's TRICK:
Figs create protein-digesting enzymes that break down muscle and connective tissue in meat. Therefore, they work as a tenderizer as well as a flavor enhancer when marinating meat.
Here's a TIP:
Dried figs can be soaked, steamed, or poached to increase moisture. If they seem too dry, just steam them in your veggie steamer for a few minutes.
And Your RECIPE: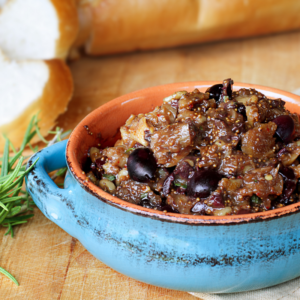 Fig and Olive Tapenade
Ingredients
1

cup

chopped dried figs

1/2

cup

water

1

tablespoon

olive oil

2

tablespoons

balsamic vinegar

1

teaspoon

dried rosemary

1

teaspoon

dried thyme

1/4

teaspoon

cayenne pepper

2/3

cup

chopped kalamata olives

2

cloves

garlic

pressed

Sea salt and freshly ground black pepper

to taste

1/3

cup

chopped toasted walnuts

1

8-oz. package

cream cheese
Instructions
Combine figs and water in a saucepan over medium heat. Bring to a boil, cook until tender, and liquid has reduced. Remove from heat. Stir in the olive oil, balsamic vinegar, rosemary, thyme, and cayenne. Add olives and garlic, and mix well. Season with salt and pepper to taste. Cover, and refrigerate for 4 hours or overnight to allow flavors to blend.
Notes
Serving suggestion: Spoon tapenade over a block of cream cheese and sprinkle with walnuts.
PS–You can receive delicious menus (complete with shopping lists!) like this delivered right to your email inbox by subscribing to Dinner Answers today!