Not only are they gorgeous, but cranberries are full of nutrition: Vitamin C, Vitamin E, potassium, iron, magnesium, and folate. They also contain antioxidants and phenols that can protect you against all kinds of things, including urinary tract infections.
Since it's cranberry season, you should stock up on as many of these gorgeous (tart) red orbs as you can. Don't forget that cranberries freeze beautifully, so buy them now when they're nice and fresh, and store as many as you can for the winter!
You might not realize it, but there are all kinds of uses for cranberries outside of turkey!
Here are 8 surprising ways you can make use of cranberries:
•Toss 1/3 cup of cranberries into your next smoothie. This measurement will make sure the tartness of the berries won't totally overpower the drink.
•Smash some cranberries in your cocktails to take down the sweetness a bit.
•Shake things up by adding a cup of cranberries to your next apple pie.
•Add a few cranberries to your breakfast in your oatmeal or yogurt.
•Make your cranberries savory, and roast them with some shallots and a couple of cloves of garlic.
•Chop a handful of cranberries into your favorite spicy salsa.
•Boil your cranberries in water with a bit of added honey. This will give you a lovely reduction to serve over pancakes or waffles.
•Puree a cup of cranberries, and whisk them into your favorite balsamic vinaigrette for a healthy, delicious and beautiful salad dressing.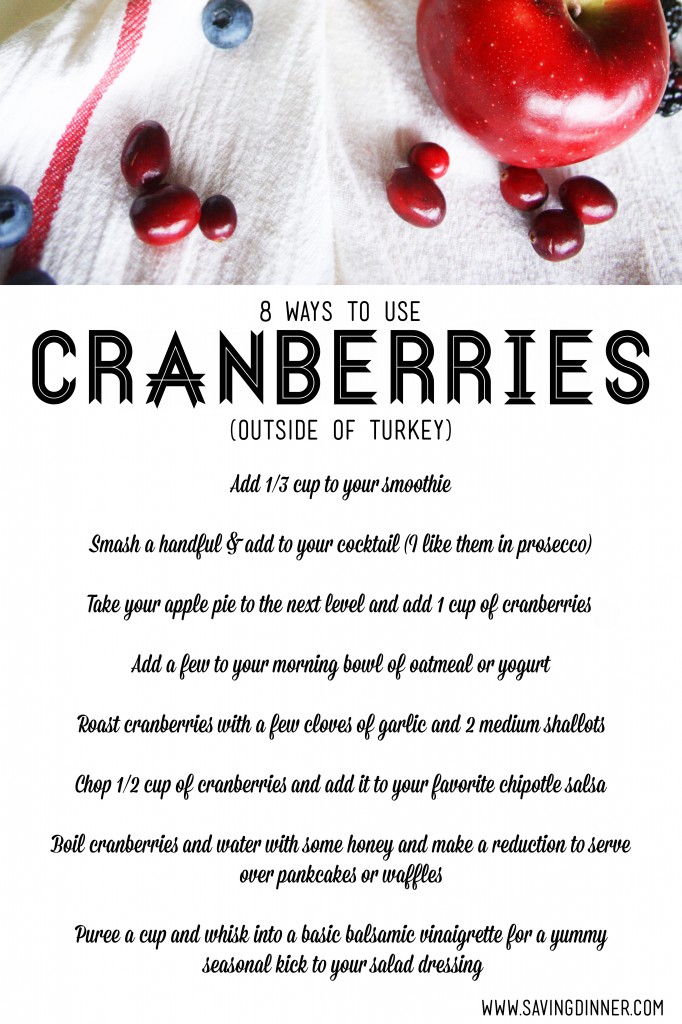 —————————————-
PS–For more delicious recipes check out Dinner Answers today!