When it comes to onions, there are two kinds of people—those who incorporate pearl onions in their regular menu rotation and folks who walk by them in the grocery store or farmers' market without giving them a second thought.
Pearl onions are basically just a bite-sized version of your standard onion. The main difference between these cuties and their larger counterparts is that while large onions are generally used to flavor or season a dish, pearl onions are eaten as whole vegetables.
There's not a lot of nutrition in pearl onions, but as members of the Allium family of vegetables, they are a good source of Vitamin C and contain antioxidants that may reduce the risk of developing breast and colon cancers while also fighting signs of aging.
Pearl onions have a naturally sweet flavor and a crunchy texture. They're most often found in stews and soups, but some folks pickle 'em and others like to toss them into martinis. (Some people actually refer to pearl onions as cocktail onions.) Little known fact: A martini with a pearl onion instead of an olive is referred to as a Gibson.
Now it's time for your Trick:
Peeling pearl onions can be a tricky undertaking unless you know the secret! Use a paring knife to remove the tip of the onion (opposite the root end). Place the pared onions in boiling water for two minutes. Drain the onions and let them stand until they're cool enough that you can handle them. When you give each onion a gentle squeeze at the root end, the onion will pop right from its skin. Slice off the remaining roots and you're in business!
And your Tip:
Pearl onions freeze great. After peeling your onions, place them in a single layer on a baking sheet and wrap them in plastic wrap or aluminum foil, and place them in the freezer for a few hours. When the onions are frozen, move to zipper-style freezer bags.
And your Recipe: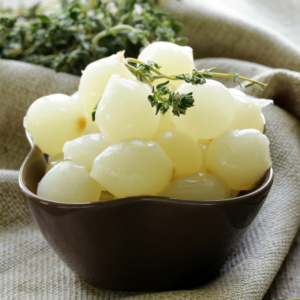 Poulet Bonne Femme
Ingredients
1 1/2

tablespoons

avocado oil

6

boneless skinless chicken breast halves

Salt and pepper

to taste

1 1/2

tablespoons

butter

12

baby carrots

12

pearl onions

1 1/2

cups

low sodium chicken broth

or use homemade bone broth

1 1/2

teaspoons

tarragon

1/3

teaspoon

thyme

1

bay leaf

5

medium

russet potatoes

peeled and sliced
Instructions
In a skillet over medium-high heat, brown chicken breasts on both sides in oil.

Don't worry about cooking through; just brown the outsides nicely; season with salt and pepper to taste.

Remove from skillet and place in slow cooker.

Reduce skillet heat to medium-low; add butter and melt. Add onions and carrots and saute until onions are lightly browned.

Pour chicken broth into skillet and scrape up the browned bits from the bottom of the pan; pour broth over chicken in slow cooker.

Add tarragon, thyme, bay leaf and potatoes. C

Cover and cook on low heat setting for about 6 hours, or until chicken is done.
For many more delicious recipes, subscribe to Dinner Answers today!