The Chinese started enjoying salted pork bellies in 1500 BC. The Romans and the Greeks also enjoyed eating this preserved pork product.
In 1924, the first packaged and sliced bacon was patented by Oscar Mayer, and the world would never be the same.
Oh, bacon. Those of us who are living a Paleo lifestyle, well, we go through pounds of this stuff each month. Known as the candy of meats, bacon is one of those foods that basically just makes life better. The average American eats 17.9 pounds of the stuff each year!
All bacon really is, is cured, smoked pork. But, depending on where you live, bacon comes from a different part of the pig. Here in the US, the bacon we know best (long strips of meat) comes from the belly. In the UK, back bacon reigns supreme (a cut from the shoulder) and in Canada, bacon is little round cutlets from the loin. Those long strips of bacon are enjoyed in the UK and in Canada as well, but each country has its own national treasure.
As yummy with eggs for breakfast as it is with slices of tomatoes on toast, or crumbled into a Caesar salad, bacon is just a wonderful food, all around.
Think you know all you need to know about bacon? Well, how much have you experimented with your cooking methods? In your trick and your tip, I'm going to try and inspire you!
Your Trick:
Ever try cooking your bacon in water? It's a great method that allows for more even cooking. Put your bacon in a skillet and enough water to cover the strips, bringing it to a boil. When the water starts to boil, reduce the heat to medium. When the water has mostly cooked off, reduce the heat again to medium low, flipping the strips of bacon and cooking until perfectly brown and bacony! This prevents your bacon from burning while waiting for the fatty bits to cook properly.
Your Tip:
Not in a hurry for your bacon? Heat your oven to 350, and roast your strips of bacon on an aluminum foil-lined pan for about 12 to 15 minutes. You can put it on a rack if you like. For a special treat, put some maple syrup and fresh ground black pepper on the bacon strips before cooking.
And your Recipe: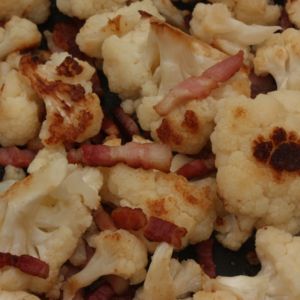 Maple Bacon and Cauliflower Stir-Fry
Ingredients
2

pounds

bacon

chopped

2

large cloves

garlic

minced

1

large

onion

chopped

2

tablespoons

pure maple syrup

3

cups

cauliflower

chopped

Sea salt and freshly ground pepper

to taste

1

teaspoon

crushed red pepper flakes

4

cups

spinach leaves
Instructions
Preheat oven to 400 degrees.

In a large bowl, toss together first 7 ingredients (bacon through crushed red pepper flakes); spread mixture on a large cookie sheet and bake for 30 minutes, stirring occasionally, or until bacon and vegetables are cooked and crispy. Drain off excess bacon fat and serve over spinach.
Wild Pastures — This is my favorite resource for clean meat, poultry, and fish! And to use all that wonderful meat, poultry, and fish, subscribe to Dinner Answers today for delicious recipes!