Fennel is a versatile food (essentially it's an herb) with a sweet, slight licorice taste that's used for its feathery stalks, its aromatic seeds, and its flavorful root which is eaten as a vegetable. The whole fennel plant is edible.
On the health front, fennel is extremely good for you. It reduces inflammation in the body and may help prevent several types of cancers. There's a list of medicinal uses for fennel that's longer than my arm! This herb is used for everything from helping with colic, digestion, and respiratory congestion to promoting milk supply, treating angina, and improving kidney function. You'll see fennel listed as an ingredient in cough remedies and it can even be turned into a tea to help cure food poisoning.
Sounds like something we could all stand to eat more of, don't you think?
Fennel is most delicious during the peak of its season from fall through early spring. It can be used raw in salads or sandwiches or cooked into a delicious side dish. I love to braise fennel and serve it with seafood.
Give it a try and see how you enjoy it best!
Now it's time for your Trick:
When shopping for fennel, look for white or pale green bulbs that aren't bruised, spotted, or split. Don't purchase fennel with flowering buds because that means the plant is old. When you bring the fennel home, cut the leaves from the stalks and the stalks from the bulb. Store the stalks to be used in soups and stews.
The leaves can be used to season foods and the bulb can be stored on its own to be used as a vegetable with its own starring role on your dinner plate.
Your Tip:
Fennel can be frozen but that causes it to lose its flavor. You're better off putting the fennel in your crisper drawer and eating it within four days of purchasing it.
And your Recipe: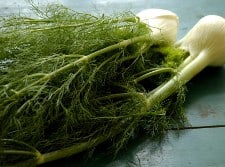 Roast Chicken with Fennel
Ingredients
12

cloves

garlic

peeled

3

pounds

fennel bulbs

fronds and stalks removed, bulbs cored and cut into eighths

1

tablespoon

olive oil

divided

sea salt and freshly ground black pepper

to taste

4

6-oz.

boneless skinless chicken breast halves

1/2

teaspoon

dried oregano
Instructions
Preheat oven to 475 degrees.

On a large rimmed baking sheet, combine garlic, fennel, and 1/2 tablespoon of oil.

Toss and season with salt and pepper.

Roast for 10 to 12 minutes.

Rub chicken with remaining oil; season with oregano, salt, and pepper.

Remove baking sheet from the oven; push fennel and garlic to sides and place chicken in the center.

Roast for 20 to 25 minutes or until chicken is done and juices run clear.
Notes
Per Serving: 351 Calories; 12g Fat; 42g Protein; 21g Carbohydrate; 8g Dietary Fiber; 104mg Cholesterol; 264mg Sodium. Exchanges: 1 Grain (Starch); 5 1/2 Lean Meat; 1/2 Vegetable; 1 1/2 Fat. Points: 9
Looking for more delicious recipes like this one? Check out our Dinner Answers program today!