You're probably most familiar with rosemary in its dried or fresh form, being used as an herb for adding a distinct flavor to pork or beef dishes. There are all kinds of flavor in this aromatic herb but it's also quite healthy for you.
Among rosemary's properties…
•It's anti-inflammatory
•It acts as a natural antidepressant
•It serves as an expectorant
•It's an aphrodisiac (wink wink, nudge nudge)
•It's even a natural disinfectant
Besides those magical powers, rosemary can do all kinds of other good in your body including stimulating bile secretion and eliminating it in the intestines. It also improves blood flow and it can even keep your mind sharp and energized.
Speaking of your mind, rosemary has many calming effects that can help with digestive problems caused by stress, as well as helping to battle anxiety, sadness, and fatigue.
Rumor has it that rosemary can even help with hangovers, constipation, cramps, cough, muscular pain, and sinusitis.
For these types of benefits, you may want to look at purchasing rosemary in the form of tea, capsules, tincture, or even an ethereal oil.
More to rosemary than meets the eye isn't there?!
Rosemary is dead easy to grow, so why not plant some of your own? It's great when used fresh (for best results, store your cut sprigs in a glass of water in the fridge), but you can also dry the rosemary out yourself by hanging the sprigs in a warm and dry place. Then you have your own dried rosemary for the winter. How pioneer-ish of you!
Here's your Trick:
Rosemary acts as a natural insect repellant so plant lots of it!
And here's your Tip:
Toss springs of rosemary onto the coals of your barbeque to naturally flavor meats.
And your Recipe: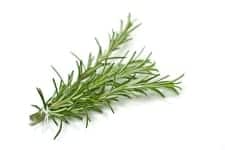 Rosemary Pork Medallions
Ingredients
1

clove

garlic

pressed

1

teaspoon

dried rosemary

crushed

1

teaspoon

dried sage

1/4

tablespoon

olive oil

2

8-12-oz,

lean pork tenderloins

2

teaspoons

lemon juice
Instructions
In a small bowl or cup, make a paste from the garlic, rosemary, sage and oil.

Rub into the pork then slice pork into almost 1-inch strips.

In a large skillet over medium-high heat, saute pork strips until they are no longer pink in the center, about 4 minutes per side (use a little more oil if needed).

Place pork strips on a serving platter and drizzle with lemon juice.
Notes
Per Serving: 215 Calories; 7g Fat; 36g Protein; 1g Carbohydrate; trace Dietary Fiber; 111mg Cholesterol; 85mg Sodium.Exchanges: 0 Grain(Starch); 5 Lean Meat; 0 Vegetable; 0 Fruit; 0 Fat. Points: 5
Interested in finding more dishes that use this delicious herb? Check out our Dinner Answers program today!