You know the old saying, right? An apple a day keeps the doctor away. There's a lot of truth to that saying. Apples are fiber-rich, full of vitamin A, beta-carotene, and vitamin C as well as a smattering of other vitamins and minerals. Definitely a valuable part of your daily bites!
It's not just red, Delicious apples that are worthy of your produce dollar, either. There is a whole bushel of apples I bet you've never tried. Honey Crisp apples are some of my favorites—delicious, crisp, and juicy. They look like big Gala apples and are hugely flavorful. Another favorite apple, but hard to find is the Arkansas Black apple. This would have been the apple the witch in Snow White gave the princess…the skin is such a dark red, it's nearly black. On my trip home from the mountains of North Carolina this weekend, I happened upon them and promptly brought home half a peck. I've already had one today and plan on attacking another one later this afternoon for my afternoon snack. Yes, they are THAT good!
Apples may be available year-round, but that's because they're put in cold storage. Nothing wrong with that and heaven knows I'll still be eating apples all year-round, but right now they are just positively scrumptious. Don't neglect finding a little orchard or apple stand and getting some just picked ones to put in your fruit bowl. If that's not possible, I know they're probably on sale in your grocery store right now! That's why buying in season is so economical.
However you get your apples and in whatever variety or form, now is the time! Here's a recipe that's worth the time to make just for the smell they produce. Guaranteed to warm your home and bring smiles to all who partake—enjoy!
Here's your Tip:
Apples are wonderful for helping you control your appetite because the fiber in the apple is pectin; it gets bigger as it gets in your tummy, yay! That pectin is also important in your digestive tract because it gets the toxins and bad guys out of your body. See why the old "an apple a day keeps the doctor away" adage is so important?
Green apples for baking pies for sure, but any apple will work for applesauce. If your apples are starting to get a little old, don't throw them out, make applesauce!
And your Trick:
Buy your apples organically if at all possible. The skin is full of flavonoids and you miss those if you peel your apple. Flavonoids are what give fruits and veggies their colors and fight inflammation. Important stuff!
Recipes:
Baked Cinnamon Apples
Tastes like a rich, apple-y custard without all that nasty fat--that little bit of butter makes them almost velvety in texture and rich in flavor.
Ingredients
4

Granny Smith apples

cored

1

teaspoon

cinnamon

1/4

teaspoon

nutmeg

4

teaspoons

brown sugar

4

teaspoons

whipped unsalted butter
Instructions
Preheat oven to 350.

Take apples and set them in a baking dish.

Sprinkle spices and brown sugar on the apple and top with 1 teaspoon of butter each—the secret in keeping the fat down on this recipe is using whipped butter—it's a favorite weapon in my fridge!

Bake for about 45 minutes or till tender.

Serve warm in a bowl with vanilla yogurt (or vanilla ice cream, but you didn't hear that from me).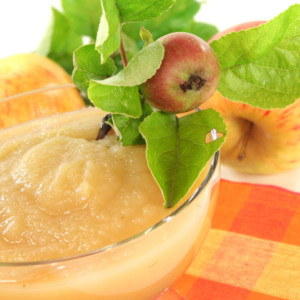 Slow Cooker Applesauce
Ingredients
3

pounds

apples

peeled and quartered

1

cinnamon stick

or 1 1/2 teaspoons ground
Instructions
In a crockpot, place prepared apples and cook on high for about 3 hours, or until fork tender.

Serve in bowls warm.

For an extra special touch, put about a half teaspoon of butter on top and sprinkle with a little bit of sucanat or brown sugar (just a little!).
Looking for more delicious recipes like this one? Check out our Dinner Answers program today!