Oh, it's autumn! And you know what that means, don't you? A plethora of pumpkin seeds! I mean, who doesn't equate fall with pumpkins? I love me some pumpkin puree and I love me some pumpkin seeds. Even though these little nuggets of wonderful are available year-round, they're best enjoyed when pumpkins are in season.
Did you know that Native Americans held pumpkins and their seeds in very high esteem? They treasured them for their medicinal and dietary properties.
Some people refer to their pumpkin seeds as pepitas but it doesn't matter to me what you call them, just trust me when I tell you that these little guys deserve a spot in your diet.
Pumpkin Seed Nutrition
Just a quarter cup of pumpkin seeds provides you with almost 75% of your daily recommended dose of manganese, almost half of your daily requirement of magnesium, and a good serving of nutrients phosphorus, copper, protein, iron, and zinc.
Studies show that pumpkin seeds help promote good prostate health, benefit arthritis symptoms and they can also help to protect bone mineral density. Try to encourage your loved ones (especially men) to snack on these nutritional seeds. The bonus, of course, is that they taste delicious!
Speaking of how they taste, here are some suggestions for enjoying pumpkin seeds.
First of all, they are wonderful just taken right from the pumpkin, dried off, and baked in a 170 F oven for 20 minutes. They're best roasted at a low temperature for a short amount of time so that their healthy oils aren't destroyed.
Eat them just like that or toss them into your stir-fry or salad. Put them through your coffee grinder and add them to your homemade vinaigrettes and even to turkey, beef, or veggie burgers. Put them in your oatmeal, add them to granola and oatmeal cookies…the options are really limitless.
Here's your Trick:
Keep your pumpkin seeds stored in an airtight container in the fridge. Try to eat them within 2 months to enjoy them at their freshest.
And your Tip:
If you're buying pumpkin seeds in the store, try to smell them before you bring them home. Don't worry about looking like a crazy pumpkin sniffer. If they're musty or rancid smelling, leave them where they are!
And your Recipe: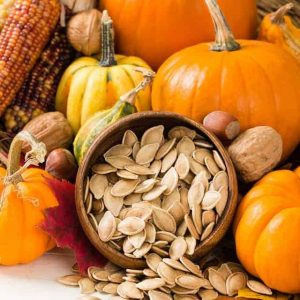 Saving Dinner Salad with Pumpkin Seeds
Ingredients
Salad
6

cups

mixed salad greens make sure some of it is spinach

1

cup

carrots

chopped

2

tablespoon

red onion

chopped

1

Gala apple

cored, and cut into 1/4-inch cubes

2

tomatoes

diced

Pumpkin seeds sprinkled over the top
Dressing
1/2

tablespoon

honey

1

tablespoon

balsamic vinegar

1

squirt

hot chili sauce like Tabasco

2

tablespoons

extra virgin olive oil
Instructions
INSTRUCTIONS

Toss together salad greens through diced tomatoes.

Mix together dressing ingredients.

Top salad with dressing and pumpkin seeds.
Notes
RECIPE NOTES
Make as much of this dressing or as little as you want and store in the fridge to use anytime you need it.
Looking for more delicious recipes like this one? Check out our Dinner Answers program today!