There are a lot of producers of coconut milk making it easy to pick up this delicious drink at the grocery store. Easy to swap dairy milk for coconut milk, it's always in my blender in the mornings, making my breakfast in a glass smoothie!
Coconut milk is rich in MCT (medium chain triglycerides) which gets used for fuel and is not stored as fat and satiates, keeping you full. Coconut milk is also rich zinc (think pretty skin), potassium (helps normalize blood pressure) and selenium (may decrease joint inflammation).
After all that, I know you're going to want to keep some in your fridge!
Here's a TRICK:
Slip a little coconut milk in your cooking (fabulous with curries!) the antimicrobial nature of the coconut milk will help keep the cooties at bay!
And a TIP:
You can buy coconut milk in the can or the dairy case. My recommendation is go with the fresh stuff (So Delicious and Silk both make it, as does Trader Joe's if you're fortunate to live near one). Not only is it cheaper this way, but it's fresher, too.
And your RECIPE: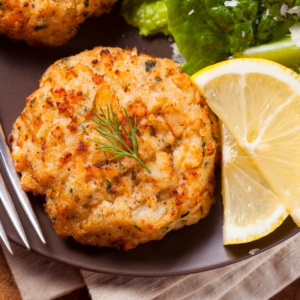 Lemon Infused Crab Cakes
Ingredients
CRAB CAKES:
16

ounces

crab meat

1/4

cup

chopped fresh parsley

1/2

cup

almond flour

Sea salt and freshly ground black pepper

to taste

1/4

teaspoon

ground paprika

1/8

teaspoon

ground cloves

1/8

teaspoon

ground mustard seed

1/8

teaspoons

ground nutmeg

1 1/2

tablespoon

lemon juice

1/2

tablespoon

lemon zest

1/4

cup

unsweetened coconut milk

1

large

egg
Instructions
ASSEMBLE:
In a large mixing bowl, mix all ingredients together.

On a large sheet of plastic wrap, take crab meat mixture and pat into patties. Wrap each crab cake individually.

In a 1 gallon freezer bag, add wrapped crab cakes.

Seal bag, squeezing out excess air.

To prevent freezer burn, place the filled bag in a second 1-gallon freezer bag; carefully squeeze the bag to force out any air, then seal. On the outside of the bag, label with the recipe name and date of preparation; place it in the freezer.
THAW:
Defrost your freezer meal the night before in the fridge. If you don't have a full thaw at cooking time, remove it from the holding bags and place it in a sink of water to speed-thaw your food. New rules allow for thawing in hot water (100 degrees) with no issues regarding quality or safety (old rules said to use cold water for thawing, but this is no longer necessary - hot water is fast, effective and safe).
COOK:
Cooking Instructions: In a large skillet, heat oil over medium and add crab cakes. Cook for 3 to 4 minutes per side, until brown on the outside and cooked through on the inside. Serve warm.
How about a BONUS RECIPE: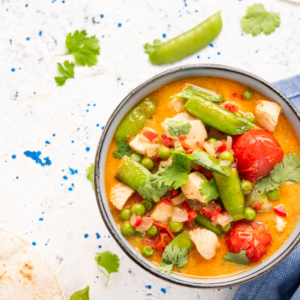 Curried Snow Pea Chicken
Ingredients
1

tablespoon

olive oil

4

boneless skinless chicken breast halves

cut into strips

2

clove

garlic

pressed

1

onion

chopped

1

tablespoon

curry powder

2

carrots

sliced

12

ounces

low sodium chicken broth

8

ounces

coconut milk

Salt and pepper

to taste

3

cups

blanched snow peas

cooked quickly till bright green
Instructions
In a skillet over medium heat, saute chicken in olive oil until cooked through. Remove from skillet and keep warm.

Add garlic, onion, curry, and carrots to skillet. Saute until vegetables have softened. Next add broth, coconut milk, salt and pepper to skillet. Cover, reduce heat to medium low and let simmer for about 5 minutes.

Add chicken and snow peas to skillet and stir to reheat chicken and warm snow peas through or for about 3 minutes.
Notes
SERVING SUGGESTIONS: Serve on a bed of sauteed spinach with roasted bok choy (roast on 400 degrees, drizzle with olive oil, salt and pepper to taste).
For MANY more delicious recipes like these, subscribe to Dinner Answers today!