Cranberries are related to blueberries with both fruits being members of the Ericaceae family so it's no wonder these lovely little orbs are so healthy for us. Cranberries can be found growing wild in boggy areas but we're mostly used to the cultivated ones which are grown on sandy bogs on trailing vines.
Cranberries are at their most nutritious when they're freshly picked between October and December which is why we're used to seeing them alongside a Thanksgiving or Christmas dinner. Their tart flavor and gorgeous color are a familiar sight on the holiday table, but believe it or not, folks, cranberries deserve a place in your diet year-round – not just alongside a roast turkey!
Health benefits of cranberries
Cranberries are well known for preventing urinary tract infections because of their high levels of proanthocyanidins (PACs) which act as little barriers to the bacteria that can latch on to the lining of your urinary tract. Because of the property of these PACs, the thinking is that cranberries may help prevent stomach ulcers as well because they're also caused by the attachment of unwanted bacteria!
Cranberries are very high on the list of fruits that provide us with antioxidants. They have cancer-preventative properties that protect against prostate, lung, colon, and breast cancers. These pretty red berries also have anti-inflammatory properties and provide us with fiber, Vitamins C, E and K, and manganese.
Recent research suggests that cranberries can also promote oral and gastrointestinal health while raising good cholesterol and lowering bad cholesterol.
How's that for a rap sheet of benefits?
Cranberries will last for ages when they're frozen so keep some on hand for tossing into muffins and loaves throughout the year.
Here's your Trick:
Cranberries are at their healthiest when eaten raw. Try using them in place of vinegar or lemon juice in your salads and tossing them into smoothies where their tart flavor will be easier to the palate.
And your Tip:
Firmness is a key indicator of cranberry quality. Choose berries that are firm to the touch, with a deep red color. The deeper in color the better they are for you.
And your Recipe: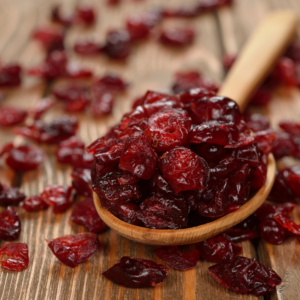 Fruited Chicken
Ingredients
1

large

onion

sliced

6

6-oz.

boneless skinless chicken breast halves

1/3

cup

orange juice

2

tablespoons

low sodium soy sauce

2

tablespoons

Worcestershire sauce

2

tablespoons

Dijon mustard

1

tablespoon

grated orange peel

2

cloves

garlic

pressed

1/2

cup

chopped dried apricots

1/2

cup

dried cranberries

3

cups

cooked brown rice
Instructions
Place onion and chicken in a slow cooker. In a bowl, combine orange juice, soy sauce, Worcestershire sauce, mustard, orange peel and garlic; pour over chicken. Sprinkle with dried apricots and cranberries. Cover and cook on LOW for 7 to 8 hours or until chicken juices run clear. Serve over hot rice.
Tell us how much you love cranberries here!
PS–You can receive delicious menus (complete with shopping lists!) like this delivered right to your email inbox by subscribing to Dinner Answers today!