There are times when you cannot help but feel disheartened when you read what's happening at home and in the rest of the world. It's times like this when we need to keep our home fires burning, regardless of what is going on. The one place where we do have some control is in our homes. We cannot control the Middle East, we cannot control the winds of war, the price of gas, or the cost of food, but we can control the environment around us that we call home.
Your home is a gift. Likewise, your family is a gift, too. And with these gifts comes blessed responsibility. Every time you feed your family a meal, it is an expression of your love and nurture for them. That meal says that you love them, you care about their needs, and that you're there for them. One of the first things a woman is able to do after giving birth to a baby is feed it. The privilege of feeding our children and families goes beyond infant care and into the very fabric of our families' lives at the place we call our dinner tables.
The meals you prepare for your family are how you can bless them. We live in uncertain, scary times. We need the comfort of hearth and home and you have the privilege of bringing that comfort to your family with the meals you serve. Make your menu, put it on the fridge, and keep at it! You CAN do this! If you need a little help with menus, check out my Dinner Answers program here.
I read once that the only wound a soul can never recover from is regret. The past is the past–but you don't have to live in regret. You have the opportunity of doing something different tomorrow. Big changes come about by little choices and sometimes, it comes in the form of a recipe—enjoy!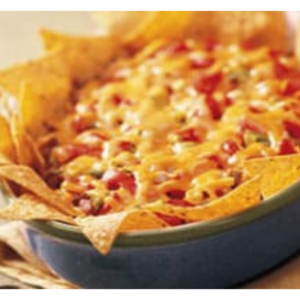 Fiesta Casserole
Ingredients
1

pound

lean ground beef

1

15-oz. can

spicy chili beans

undrained

1

cup

salsa

jarred, your favorite

2

cups

coarsely broken tortilla chips

1/2

cup

reduced-fat sour cream

4

medium

green onions

sliced (about 1/2 cup)

1

medium

tomato

chopped (about 3/4 cup)

1/2

cup

shredded Cheddar or Monterey Jack cheese

Tortilla chips — if desired

Shredded lettuce — if desired

Salsa — if desired
Instructions
Heat oven to 350 degrees. Cook beef in 10-inch skillet over medium heat 8 to 10 minutes, stirring occasionally, until brown; drain. Stir in the beans and salsa. Heat to boiling, stirring occasionally.

Place broken tortilla chips in ungreased 2-quart casserole. Top with beef mixture. Spread with sour cream. Sprinkle with onions, tomato and cheese. Bake uncovered 20 to 30 minutes or until hot and bubbly. Arrange more tortilla chips around edge of casserole. Serve with lettuce and salsa.