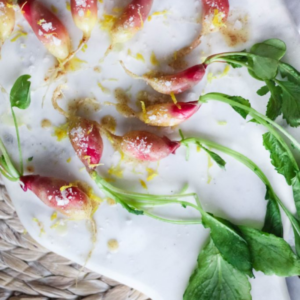 Brown Butter Dipped Lemony Radishes
Spring and summer wouldn't be complete without heaps of radishes!!! And if you've never had radishes with butter - you are cheating yourself of such a perfectly simple and delicious treat! This is a great snack or appetizer or picnic food, and it's SOOO easy! So grab some radishes and let's get started!
Ingredients
5

tablespoons

grass fed butter

1

bunch

radishes

washed and dried, we used breakfast radishes, but any bite-sized ones will do!

1

medium

lemon zested

1

pinch

flake sea salt
Instructions
In a small heavy bottom sauce pan over medium high heat, melt butter. Keep over heat until it begins to brown - whisking regularly. Keep a close eye on it because it can go from brown to burnt in a blink of an eye! Takes about 3ish minutes.

Once brown butter is done, immediately transfer to a small bowl to prevent further cooking/burning. Allow to sit and cool slightly for about 5 minutes.

Take radishes and dip them into the brown butter! Allow butter to cool and set on radish and then dip again (we popped them into the fridge between dippings to help cool butter faster). Repeat this process until you have a nice and noticeable butter sheath on your radishes!

After the final dipping, while the butter is still malleable, dust each radishes with a sprinkle of lemon zest and flake sea salt! Allow to set, or cool in the fridge, one last time and then serve!
Subscribe to Dinner Answers today for more delicious recipes!