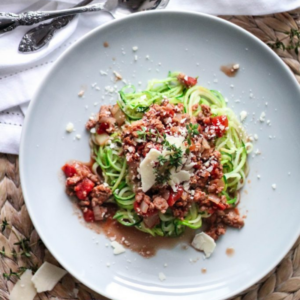 Hot Melt (keto-approved) Spaghetti
We're gunna let you in a little secret: you can still enjoy spaghetti WITHOUT the gluten heavy noodles! I know, I know. You're shaking your head in disbelief, you're assuming I've lost my mind, you think "surely, THAT is impossible!" Ohhhhh it's possible. And guess what - we use ZUCCHINI for the noodles!! ZUCCHINI!!! Before you go and turn your nose up at what sounds like the most preposterous thing to ever cross your eyes, you've gotta try it. See how absolutely delicious spaghetti can still be without the soul-sucking noodles that are your thigh' arch nemesis! The recipe is crazy simple, ridiculously yummy, and it's a comfort food that is actually GOOD for you!!
Ingredients
2

zucchinis

spiralized

1

onion

chopped

2

cloves

garlic

pressed

1

tablespoon

ghee

or olive oil

1

14.5-oz. can

diced tomatoes

or fresh equivalent

1

teaspoon

dried thyme

1

teaspoon

dried oregano

salt and pepper

to taste

dash

red wine

1

pound

Italian sausage

cooked

shredded Parmesan cheese

optional
Instructions
First up, in a large skillet, heat the ghee and add the onion.

When the onion becomes translucent, now add the tomatoes, spices and simmer a couple of minutes.

Use a potato masher to smush up the tomatoes.

Add the garlic now and red wine and simmer another few minutes.

Add the zucchini to the pan and cover.

Allow to simmer for a few minutes until cooked through, about 2 to 3 minutes.

Now add the cooked sausage and mix altogether.

Serve in a bowl, top with parmesan if you like!
Subscribe to Dinner Answers today for more delicious Low-Carb and Keto recipes!