Home, home on the range . . .
I always picture a rancher in the old west when I think of bison meat. Is that weird? Anyway, whatever image it evokes for you, if you're looking for a delicious and healthy red meat alternative to beef, buy bison!
Bison is generally lower in fat, calories, and cholesterol than pork, chicken, and beef. It's high in iron, vitamin B-12, dietary fiber, and zinc. Bison is also not fed antibiotics and hormones as cattle are. Paleo eaters are all over the bison craze! Bison, however, is not nearly as plentiful as beef, so it does cost more.
If you can afford it, though, adding bison to your grocery order once in a while instead of beef will be a nice treat for your tastebuds and your health.
Here's your Trick:
Bison meat can be tougher than other red meats, so for a nice juicy bison roast, cook it in a slow cooker. Remember the rule of "low and slow."
And here's your Tip:
Cook your bison to ten degrees lower than your desired temperature because it will keep on cooking after you've taken it off of the heat. When you overcook bison, you end up with an unappealing meal!
And your Recipe: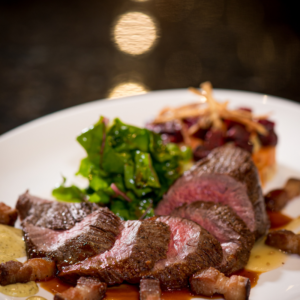 Jamaican Jerk Bison Tenderloin
Ingredients
1/4

cup

olive oil

1 1/2

teaspoons

sea salt

1 1/2

teaspoons

ground allspice

1 1/2

teaspoons

ground cinnamon

1 1/2

teaspoons

freshly ground black pepper

1

teaspoon

dried thyme

1/8

teaspoon

cayenne pepper

more or less, to taste

1

tablespoon

gluten-free balsamic vinegar

1

bay leaf

crumbled

2

cloves

garlic

pressed

1 1/2

pounds

bison tenderloin
Instructions
In a small bowl, whisk together first 10 ingredients (olive oil through garlic); rub mixture into tenderloin. Cover and refrigerate overnight.

Preheat oven to 400°F.

Place tenderloin on a rimmed baking sheet; bake for 1 hour or until desired level of doneness is achieved. Let tenderloin rest on a cutting board for 10 minutes before slicing.
Eating Paleo? Try our Dinner Answers Paleo menus, they have great healthy recipes!