Meal planning doesn't have to make you wring your hands, stomp your feet and cause you to order pizza in frustration. The solution is simple if you plan a little bit ahead, keep a perpetual grocery list going, utilize easy recipes and keep your pantry stockpiled.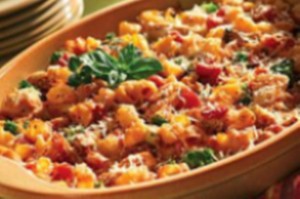 One trick that has always helped me in a pinch has been to make extra and freeze it. Casseroles are the ideal dish for the freezer as they manage to hold up to the freezer beautifully without losing taste or texture.
So why not make one a week as part of your regular weekly menu plan and double the recipe? Then you will have a stash of casseroles in your freezer for another time.
But let's take this frozen casserole concept a step further. A little bit of planning for the future costs you nearly nothing in money and time and allows you to reach out and help someone else. An extra frozen casserole is easy stuff and could be a lifeline to a friend or relative in need.
Here's a fabulous recipe (easily doubled!) with freezing tips included: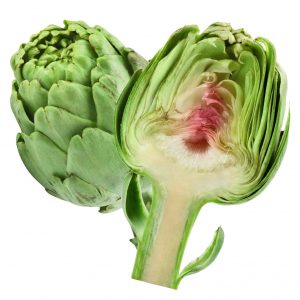 Chicken and Artichoke Casserole
Ingredients
5

boneless skinless chicken breast halves

cut in 1″ strips

4

tablespoons

butter

2

cloves

garlic

pressed (OPTIONAL—check to see if garlic bothers the baby if you're gifting to a nursing mom)

1

cup

mushrooms

sliced

1

jar

marinated artichoke hearts

drained

2

tablespoons

flour

1

can

chicken broth

or use homemade
Instructions
Preheat oven to 350 degrees.

In a skillet over medium heat, brown chicken lightly in 2 tablespoons butter, add the garlic and mushrooms and keep cooking till chicken mixture is smelling very garlicky.

Transfer browned chicken strips to a baking dish (for your extra casserole, use an aluminum pan that can be tossed after use); arrange artichoke hearts on top.

In the skillet, melt remaining butter and add the flour, whisking to blend (no lumps!). Add broth and cook until thickened then pour over chicken mixture.

Bake the casserole, uncovered, at 350 degrees for about 30 to 45 minutes.
Notes
LOW CARB SERVING SUGGESTIONS: Steamed broccoli, a big green salad (watch the carb count on your salad dressings. Higher fat dressings usually have lower carb counts)
SERVING SUGGESTIONS: Follow LC Suggestion above and add brown rice.
FREEZING INSTRUCTIONS: After the casserole has totally cooled, carefully place your casserole in a zipper-topped plastic FREEZER bag and remove all air before sealing. You can buy huge 1 1/2 to 2-gallon bags that are perfect for this. (IMPORTANT note about freezer bags: this will aid in the casserole tasting fresh. Those bags are designed to take the cold and regular bags are more permeable and will not keep your food as fresh)
Next, mark the bag with what you made (Cathy's Cheesy Casserole, for example) and the DATE. Also, add the heating instructions—like Preheat oven to 350 degrees and cook for 35 minutes or until hot and bubbling, etc. Use a Sharpie pen for this task (it's the only one that will hold up to the freezer without running. To keep your Sharpie from running off with the nearest child, hide your Sharpie in the freezer bag box—that's what I'd do or I'd never see it again. Remember: this hiding place you will take to your grave—tell no one).
To cook the casserole, remove it from the freezer the night before and place in the fridge to thaw overnight. By the time cooking time comes, it may not be completely thawed but that's okay. You will most likely need to cook the casserole longer to reheat, but an easy way to do that is to give the original cooking time and add the caveat, OR until hot and bubbly. That's saved me more than once—LOL!
You may also want to check out our wonderful Batch Cooking Freezer Meals! Just defrost, cook, and eat! Dinner was never easier for you or to give others!