Here's today's TRICK:
Did you know that mushrooms that look "old" are actually more flavorful? Buy them marked down and with a smile on your face, knowing (smugly) that not only have you purchased yourself a good deal, you're getting better flavor!
And here's a TIP:
Don't throw out the stems! Chop them up finely in your food processor, saute them in a little butter (I add garlic), and then freeze. Next time you're making rice, toss them in to make a delicious mushroom pilaf or add those frozen gems to your soup or stews. The point is nothing should go to waste on the delectable 'shroom!
And your RECIPE
(from our Low Carb Dinner Answers Menus):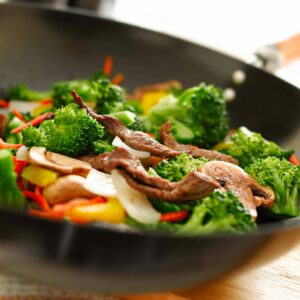 Stir-Fry Beef with Broccoli and Mushrooms
Ingredients
2

teaspoons

olive oil divided

1

pound

beef round steak trimmed and cut into 2-inch strips

1

dash

white pepper

sea salt

to taste

7

cloves

garlic

pressed

2

teaspoons

freshly grated ginger

1 1/2

cups

sliced mushrooms

1

pound

broccoli

cut into florets and steamed till tender-crisp

2

teaspoons

cornstarch

2

teaspoons

low sodium soy sauce

1/3

cup

low sodium beef broth

1/2

teaspoon

sesame oil
Instructions
DO-AHEAD TIP: Steam broccoli.

Heat 1 1/2 teaspoons of oil in a skillet or wok over medium-high heat; add beef strips and stir-fry for 5 minutes or till browned and cooked to the desired level of doneness.

Add white pepper and salt then remove from skillet and keep warm.

Heat remaining oil in the skillet or wok; add garlic, gingerroot, and mushrooms; stir-fry for 2 minutes. Add beef strips and steamed broccoli florets.

In a small bowl, whisk together cornstarch, soy sauce and broth to a smooth paste; add to skillet or wok and cook for 30 seconds or until thickened; add the sesame oil, blend well and serve.
Notes
LC SERVING SUGGESTION: Serve over Cauli-rice (process cauliflower in a blender or food processor until it resembles grains of rice; steam "rice" in a little water till tender; drain; add salt and pepper to taste and fluff with a fork). Add steamed snow peas on the side.
SERVING SUGGESTION: Serve over brown rice instead of Cauli-rice.
KOSHER: Make sure beef is certified kosher.
GLUTEN-FREE: Make sure soy sauce and broth are gluten-free. Use arrowroot starch instead of cornstarch.