Cinco de Mayo is more than just another celebration paired with great food, it's a celebration paired with Mexican food! Yum, yum, one of my favorite ethnic food categories. Flavorful, spicy, and delicious – always surprising and satisfying to everyone's taste buds.
But (isn't there always a "but"?), like any other holiday, you could find a few extra-unwanted pounds afterward if you're not careful. Let me fix that for you–Dinner Diva to the rescue! I'm here to tell you that there's always a healthy solution. One way is by making your own salsa. Full of antioxidants, naturally fat free, full of flavor, salsa definitely suits the theme, and nothing can beat homemade salsa!
When you make your own salsa, you definitely control the ingredients. Here is my favorite mango salsa recipe (sweet and spicy – a huge crowd pleaser) absolutely delicious on grilled fish.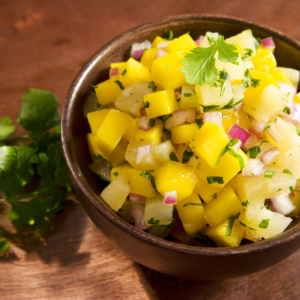 Cinco de Mayo Mango Salsa
Ingredients
1

ripe mango

diced (1 1/2 cups)

1/4

cup

finely chopped red onion

2

tablespoons

lime juice

2

tablespoons

rice vinegar

optional

1

tablespoon

chopped fresh cilantro
Instructions
Combine all the ingredients in a medium bowl and allow it to sit for about fifteen minutes and then give a quick stir before serving.