We don't hear much about the Honeydew. Cantaloupe? Watermelon? Sure. Honeydew? Not so much. But it's the Honeydew that has exquisite flavor and is chock full of goodness.
This soft green melon is full of these nutritional nuggets: vitamin C (actually one serving of honeydew will give you almost half of the vitamin C you need for the day), potassium, pantothenic acid, and Vitamin B6.
When you're shopping for honeydews they ought to have a smooth, almost velvety surface and feel heavy in weight. After you find the melon that wins your heart you can store it in your fridge for up to two weeks. And don't forget the sniff test–a ripe melon will tell you it's ready to refrigerate by its smell!
Here's Today's TRICK:
Honeydew is a great snack to include in your diet if you're trying to lose weight. Add a little string cheese and you've got salt and sweet together; very complimentary and satisfying.
Here's a TIP:
Honeydew is a good hydrator–try making melon ice cubes and adding them to your water for flavor and hydration! Simply whir your ripe honeydew in a blender with a little water, add to an ice cube tray and freeze. If you add a sprig of mint to your glass, you've got a gorgeous refreshing drink!
And Your RECIPE: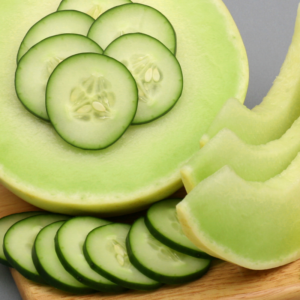 Cucumber-Melon Relish
Ingredients
3

cups

chopped cantaloupe melon

1 1/2

cups

chopped honeydew melon

1

medium

cucumber

seeded and chopped (1 1/2 cups)

1/4

cup

sliced green onions

2

tablespoons

lemon juice

2

tablespoons

snipped fresh mint

1

tablespoon

honey
Instructions
In a large mixing bowl combine chopped melon, cucumber, and green onions. In a small mixing bowl mix lemon juice, snipped mint, and honey – mix well. Pour the honey mixture over the melon mixture and then toss gently. Cover and chill for one to eight hours. Enjoy!