Horseradish is the perfect condiment for dipping roast beef, a key element in a zippy seafood sauce and a secret ingredient for an extra spicy Bloody Mary but it's so much more!
This terribly ugly root vegetable is as rich in health benefits as it is pungent in flavor.
Pressed against your forehead, the raw leaves of the horseradish plant can cure a headache. Brewed into a tea, the plants flowers can fight the common cold. And a poultice made from horseradish root can even sooth aching joints when applied externally, at the source of discomfort.
Related quite closely to mustard, cabbage and a slew of other cruciferous veggies, the root, leaves and flowers of the horseradish plant have been used medicinally for centuries to fight the flu, tonsillitis, urinary tract infections, and all sorts of other ailments.
Thanks to some intensive recent studies, we now know that horseradish is chock full of cancer-fighting compounds to boot.
Compounds called glucosinolates give horseradish its trademark hot taste. Those glucosinolates are superheroes of the cancer fighting world. They have the ability to actually suppress tumor growth and to detoxify the body of carcinogens.
Researchers have discovered that horseradish has significantly higher amounts of glucosinolates than other cruciferous vegetables. In fact, this spicy root contains ten times more glucosinolates than broccoli does.
So you know it's good for you, but how do you use it?
• Horseradish is delicious with red meat. Put a dab of horseradish on your steak or alongside some roast beef for a nutritious flavor boost.
• Serve with sushi, in place of wasabi.
• Add a bit of horseradish to your salad dressings.
• Smear a little horseradish on your sandwiches.
• Put some horseradish in your hummus.
Now it's time for your Trick:
If you choose to purchase fresh horseradish roots, look for those that are firm and avoid any that appear to be shriveled or dried up. Avoid those that have started to sprout. Use it within a week or two.
Your Tip:
Go ahead and buy the jarred horseradish to save yourself the trouble of chopping up the root yourself. Scientists have discovered that when horseradish is processed its cancer-fighting abilities are increased. Prepared horseradish will last in the fridge for three months, though it's best to use it up before it loses its pungency, within 4 weeks.
And your Recipe: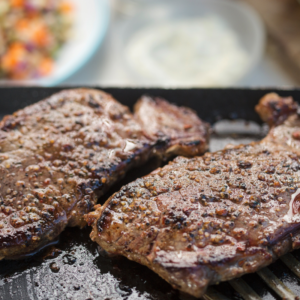 Broiled Asian Steak
Ingredients
1

clove

garlic

pressed

1

teaspoon

olive oil

1/2

tablespoon

lemon juice

1

teaspoon

Worcestershire sauce 1 teaspoon low sodium soy sauce

2

teaspoons

prepared horseradish

1/4

teaspoon

freshly ground black pepper

Hot sauce

to taste

1 1/2

pounds

beef top round steak

trimmed
Instructions
In a shallow glass dish, combine first 8 ingredients (garlic through hot sauce); blend well. Using a sharp knife, score the flesh of the steak in a diamond pattern, cutting into it about 1/8-inch deep; place in the dish and turn to coat both sides with the marinade then allow it to stand for 30 minutes, turning several times. Preheat oven broiler. Drain marinade into a small saucepan and set aside. Place steak under oven broiler, 4 inches from heat source; broil for 8 to 10 minutes (for medium-rare) or to desired level of doneness, turning once; transfer to a cutting board and allow it to rest for 10 minutes. Bring reserved marinade to a boil over high heat and boil for 3 to 4 minutes. Slice steak across the grain (diagonally) into thin slices and serve with marinade.
Notes
SERVING SUGGESTION: Brown rice and steamed broccoli spears.
GLUTEN FREE: Make sure Worcestershire sauce, soy sauce, horseradish and hot sauce are gluten free.
For more delicious recipes subscribe to Dinner Answers today!