Crab apple trees are dropping their fruit all over the place these days. There are more than a hundred varieties of crab apples found in North America. While closely related, crab apples and regular eating apples are quite different.
Most crab apples are too bitter to be eaten out of hand, but these acidic, smaller-than-golf-ball-sized apples are best when processed into jelly, chutney, or sauces.
Crab apples are high in fiber and Vitamin C.
If you have access to a crop of crab apples, rather than letting them rot on the ground, or tossing them in the compost, why not learn to work with them?
For your Trick:
Make your own crab apple jelly! This spread is wonderful served with pork tenderloin. To make crab apple jelly, wash a pot full of crab apples, cover them with water and bring to a boil. Cover and simmer until the apples are very soft. This will take about 25 minutes. Mash the crab apples and cook until you have mush. Line a colander with cheesecloth and place it over a large pot. Strain the crab apple mush over the cheesecloth, getting out as much of the juice as you can. Add 3/4 cup of sugar for each cup of juice (coconut sugar works well). Bring this sweetened juice mixture to a boil until a temperature of 210 is reached on a candy thermometer. While the jelly is still hot, add it to sanitized jars. Seal, cool, and store!
Your Tip:
You can make your own crab apple liqueur at home. Fill the largest canning jars you can find with washed crab apples. Add sweetener to taste and fill the jars with rum, whiskey, vodka, or the strong spirit of your choosing. Seal the jars and let them rest for two weeks or for several months. In the first week, shake the jars occasionally. When you wish to sample your liqueur, strain the mixture through cheesecloth and store the clear liquid in a suitable bottle. Serve over ice.
And your Recipe: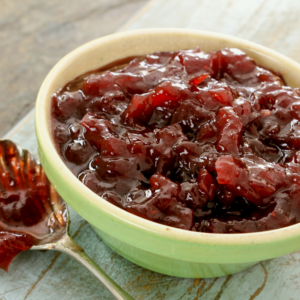 Crabapple Chutney
Ingredients
2

cups

crabapples

quartered and cored (leave the skins on)

1/2

cup

raisins

1/2

cup

chopped onions

1/4

cup

apple cider vinegar

1/4

cup

honey

1

Tablespoon

grated orange peel

1

teaspoon

ground cinnamon
Instructions
Combine all ingredients in a saucepan and stir well.

Bring to a boil, reduce heat and simmer, covered for 50 minutes.

Uncover and simmer a few more minutes over low heat, cooking off excess liquid. Let cool.
PS–Just a reminder, you can have delicious menus (complete with shopping lists!) delivered right to your email inbox each week by subscribing to Dinner Answers today!