It's soft shell crab season in many parts of the US right now and if you haven't taken advantage of that yet, I strongly recommend doing so!
Sweet, delicate crab meat is so delicious. It's also an excellent source of nutrients, protein, and those important Omega 3s. Crab is also a low-risk seafood for mercury — great news!
Now back to the crab boil.
Your family is going to love you for fixing a crab boil for dinner. Involve the children by asking them to lay down a tablecloth of newspapers and to put down a stack of extra napkins.
The kids can also help you with the prep for this meal, no matter what their ages.
Here's what you need for your basic crab boil: a large pot (maybe two depending on how many people you are feeding), tools for getting the meat out of the crab shells, cold white wine, and/or beer.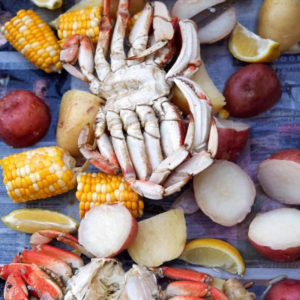 It's a crab boil!
Ingredients
New potatoes

2-3

live crabs

per person

1/2

pound

smoked sausage

per person

1

ear

organic corn

per person, halve them

butter
Seasoning
sea salt

cayenne pepper

onion powder

garlic powder

paprika

black pepper
• cayenne pepper

• onion powder

• garlic powder

• paprika

• black pepper
Instructions
Cut your potatoes in slices about a half-inch thick and place them in your pot.

Add water to cover the potatoes by an inch or so.

Add your seasoning and a few good pinches of sea salt.

Here's where the kids can be helping.

Let them toss in the corn, sausages, and crabs to the pot, cover the pot and bring the whole works to a boil.

When it starts to boil, reduce your heat to medium-high and cook, covered, for about 15 minutes or so, or until the crabs are cooked.
Notes
When it's done, use the cover of the pot to help you pour the water out of the pot. Then dump everything else in the center of the table, pour yourself a cold glass of wine, and dig in! Doesn't that sound like fun?
How do you do a crab boil? Let us know on our Facebook page!
PS–You can receive delicious menus (complete with shopping lists!) like this delivered right to your email inbox by subscribing to Dinner Answers today!