Every kitchen should be stocked with nutritional yeast and if you have never heard of this amazing food you would not be alone! I am not sure how such a healthy food has managed to stay under the radar for so long, but it has. I hope after reading this post you'll pick some up the next time you're out because this stuff is seriously good for you.
Nutritional yeast grows on molasses and cane sugar. After being harvested it is washed, pasteurized and then dried into flakes that look sort of like fish food.
This is not the same kind of yeast that you use for baking bread. It's similar but because it has been pasteurized, it can't grow anymore and it won't cause any nasty yeast imbalance in the body. It also tastes much better.
So why should we be eating this stuff?
There are many reasons why we should be eating nutritional yeast (also referred to as "Nooch"):
*Give us a B! It is rich in B vitamins, including vitamin B12, which is something normally only found in meat. B vitamins help us metabolize fats, protein, and carbs. They help us to deal with stress, they give us energy and they can even keep us looking young.
*Good bacteria. Nutritional yeast can help keep a good balance of bacteria in your gut.
*Cholesterol. Adding nutritional yeast to your diet helps to maintain healthy cholesterol levels.
*Chromium. Nutritional yeast contains the trace mineral of chromium which helps regulate blood sugar levels.
*Protein. Nutritional yeast contains 14 grams of protein per ounce making it a great non-animal source of protein. This complete protein contains 18 amino acids.
*Fiber. there are 7 grams of fiber in an ounce of nutritional yeast.
In addition to these amazing health benefits, nutritional yeast is low in sodium, keeps your liver healthy, improves blood circulation, and did I mention that it tastes delicious?
It's true! While its name would lead you to believe that nutritional yeast would be an unpleasant food, it actually has a very yummy cheesy flavor. It is easy to add it to meals and snacks to add tons of minerals, fiber, and protein to anything you're eating. It's especially good on popcorn and kale chips but it also can also be made into a creamy dairy-free cheese sauce.
You can find nutritional yeast at most bulk food stores and in the organic section of most larger grocery stores.
Now it's time for your Trick:
If you have a hard time getting your kids to eat their vegetables, try giving them a sprinkle of nutritional yeast. It is especially good on zucchini, cauliflower, broccoli, and potatoes.
Your Tip:
Sprinkle nutritional yeast in your soups, casseroles, and pasta dishes for a boost of flavor and nutrients. It can also be used in place of buttered breadcrumbs in those casserole recipes that have been handed down from your grandma!
And your Recipe: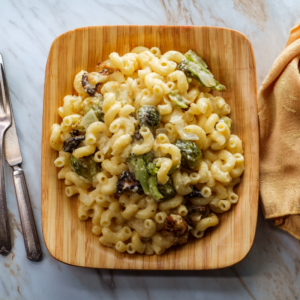 Broccoli and Cauliflower Mac 'n' "Cheese"
Ingredients
1

cup

chopped broccoli

1

cup

chopped cauliflower

1

tablespoon

olive oil

2

cloves

garlic

pressed

1/2

cup

minced yellow onion

2

cups

coconut milk

1

tablespoon

cornstarch

1

teaspoon

Dijon mustard

1

teaspoon

paprika

1/4

teaspoon

cayenne pepper

1/2

cup

nutritional yeast

1

8-oz. package

elbow macaroni

prepared according to package directions
Instructions
Preheat oven to 350 degrees. Bring a pot of salted water to a boil and add broccoli and cauliflower. Bring to a boil and drain immediately. Set aside. Heat oil in a large, deep skillet over medium heat. Add garlic and onion and cook for 5-7 minutes, until onion is translucent. Add broccoli and cauliflower and cook for 1-2 minutes. In a large bowl, whisk coconut milk, cornstarch, Dijon mustard, paprika, and cayenne together until smooth and no lumps remain. Stir into onion and vegetable mixture, bring to a boil and remove from heat when thickened (add more coconut milk or some vegetable broth, if sauce becomes too thick for your liking). Stir in nutritional yeast and cooked macaroni and transfer to a lightly greased baking dish. Bake for 30 minutes, or until broccoli and cauliflower are tender. Serve and enjoy!
PS–You can receive delicious menus (complete with shopping lists!) like this delivered right to your email inbox by subscribing to Dinner Answers today!